These dainty Thermomix Jam Drops are deliciously soft with a colourful jam centre. They are easy to make with a few simple steps.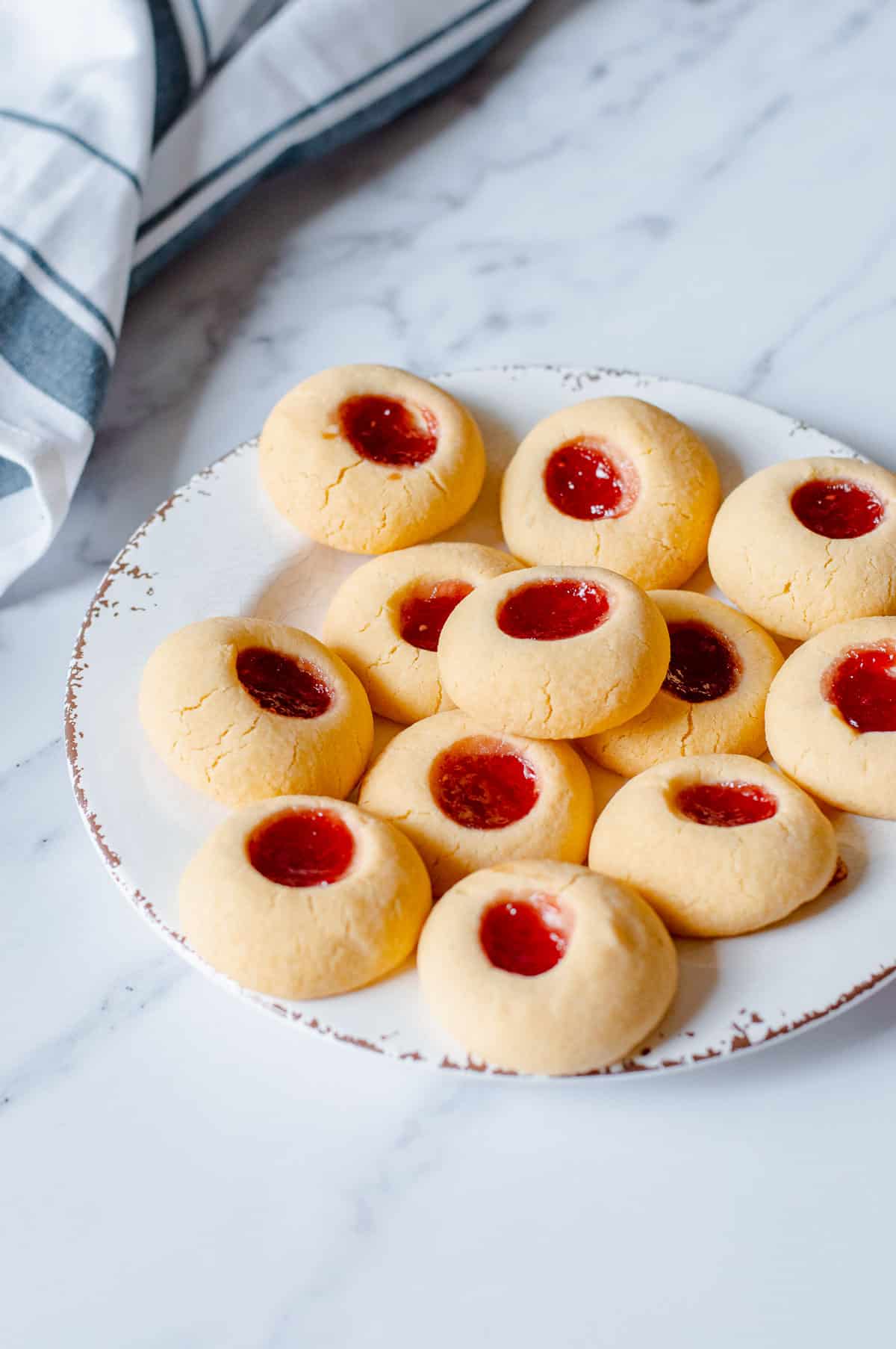 Jam Drops also go by the name of Jam Thumbprint Cookies. They have a buttery shortbread-like base and can be filled with any type of fruity jam. They are bite-sized, and it doesn't take long to finish one or two.
Jump to:
Why We Love This Recipe
Easy to make in the Thermomix.
Only 6 ingredients (egg-free).
Perfect for afternoon tea.
Ingredients
Note: The full quantities are shown in the recipe card below.
Plain flour - known as all purpose flour in the USA and Canada.
Butter - use unsalted butter softened at room temperature.
White sugar - or icing sugar can be used.
Custard powder - the key ingredient for that melt in the mouth texture.
Jam - we use raspberry jam, but you could use any flavour of jam.
Vanilla extract - use pure extract and not imitation.

Step by Step Directions
Note: This is a summary of the instructions. The full ingredients and instructions are shown in the recipe card below.
Step 1. Grind the sugar in the Thermomix until it forms icing sugar. Add the butter and vanilla extract and beat together for a couple of minutes until pale and creamy.
Step 2. Add the remaining ingredients to the Thermomix (apart from the jam) and mix until combined. The mixture will be a little sticky, but manageable. If not, place it in the fridge for 15 minutes to chill.
Flour your hands, then take a small portion of dough out and roll it into a ball. Place it on the baking tray and repeat until the dough is finished.
Step 3. Using the end of a wooden spoon, make an indentation in the top of each ball, then fill with a little jam. Chill in the fridge for 10 minutes. You could also use your forefinger or thumb instead of the wooden spoon. Flour the wooden spoon if it sticks to the mixture.
Step 4. Bake in the oven for about 10-12 minutes until lightly golden. Leave on the baking tray to cool for 10 minutes before transferring to a wire rack to cool completely.
FAQs & Expert Tips
How do you store Jam Drops?
Store in an airtight container in a cool place for up to a week (if they last that long!).
Why have the Jam Drops fallen apart?
Make sure they have cooled for 10 minutes on the baking tray before they are transferred to a wire rack to cool completely.
Why have the Jam Drops cracked?
A few cracks are normal, and will diminish once they have cooled down.
Related Recipes
Jam Tarts
Blueberry & Almond Friands
Lemon Blueberry Scones