An easy recipe for cooking Mashed Potatoes in the Thermomix. This technique ensures that the potatoes are smooth and fluffy and not gluggy like baby food.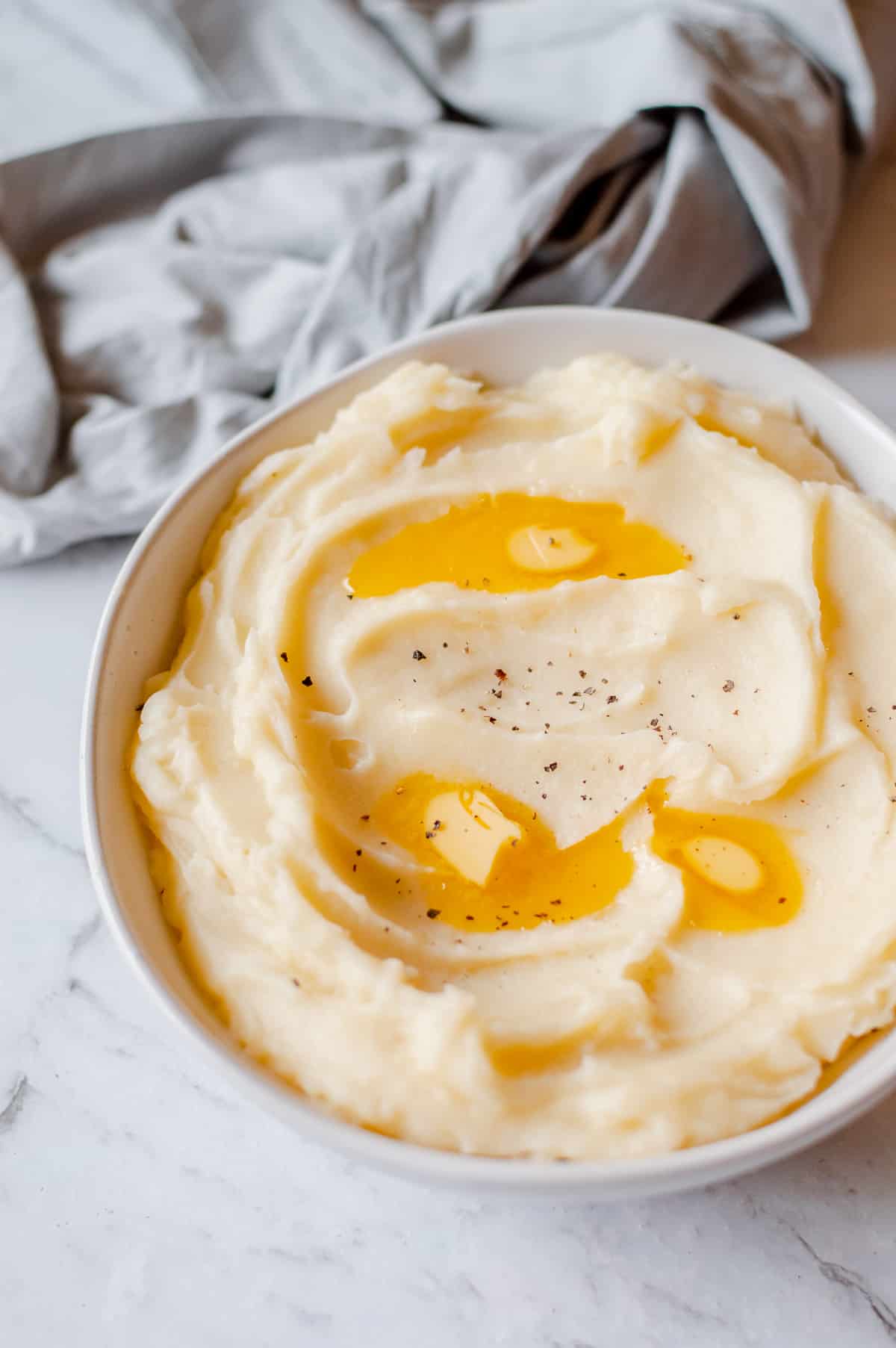 It's taken me quite a few attempts to achieve the near-perfect mash in the Thermomix and something that doesn't resemble wallpaper paste.
The biggest mistake when using the Thermomix to make mash is to overmix. Overmixing the potatoes results in excess starch, therefore making them gluey.
Mashed Potatoes are the perfect accompaniment for sausages, stews, casseroles and grilled steak. You can use any leftovers the next day to make dishes such as bubble and squeak, fritters or fish cakes.
If you follow all the tips set out below, you'll achieve the best possible mash every time.
The Best Potatoes For Mashing
These are the best potatoes for mashing as they are the fluffiest, smoothest and most flavour-packed:-

Royal Blue
Red Desiree
Dutch Cream
Kestral
Russets or Yukon Golds
Maris Piper
King Edward
Red Pontiac
An all-rounder potato (as labelled by the supermarket)
Tips for Thermomix Mashed Potatoes
Use the right potatoes, as suggested above.
Don't overmix as this causes the potatoes to become gluggy. Unfortunately, there is no going back from gluggy potatoes! They are still edible, though.
Store the mashed potatoes in the Thermo Server for 5-10 minutes to thicken up before serving (if you have time).
Try and cut the potatoes roughly the same size, so they cook evenly.
Cut the potatoes into small 1-2cm cubes, so they cook quicker.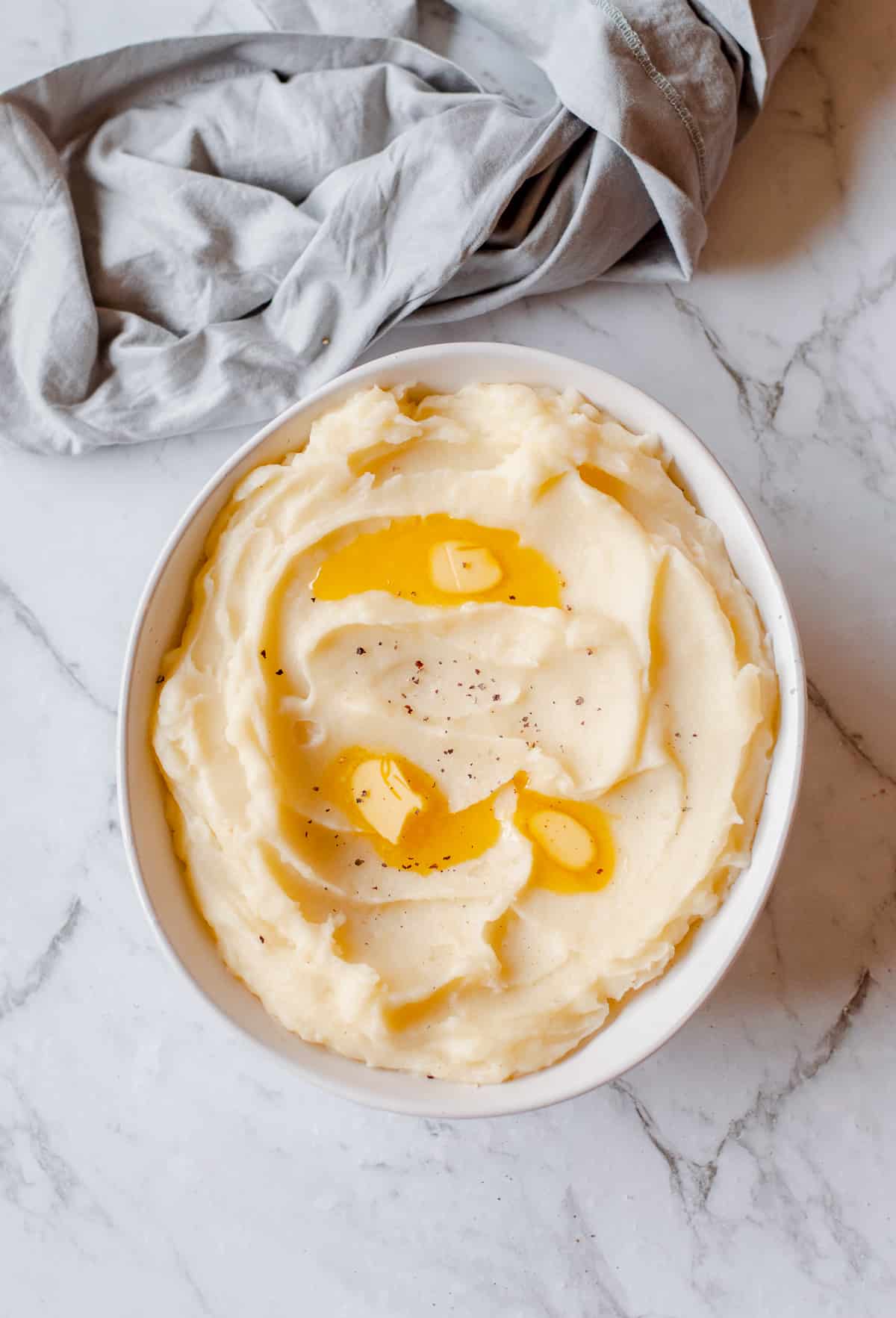 Storing Leftover Mash
We often have leftover mash in our house. You can keep it in the fridge for up to three days and store it in an airtight container. You can also freeze the mash for up to two months. When it comes to defrosting, leave it in the refrigerator overnight to thaw completely, then reheat it in the microwave.
You Might Also Love These Thermomix Sides
How to Cook White Rice in the Thermomix
Thermomix Cauliflower Rice
Thermomix Brown Rice
📖 Recipe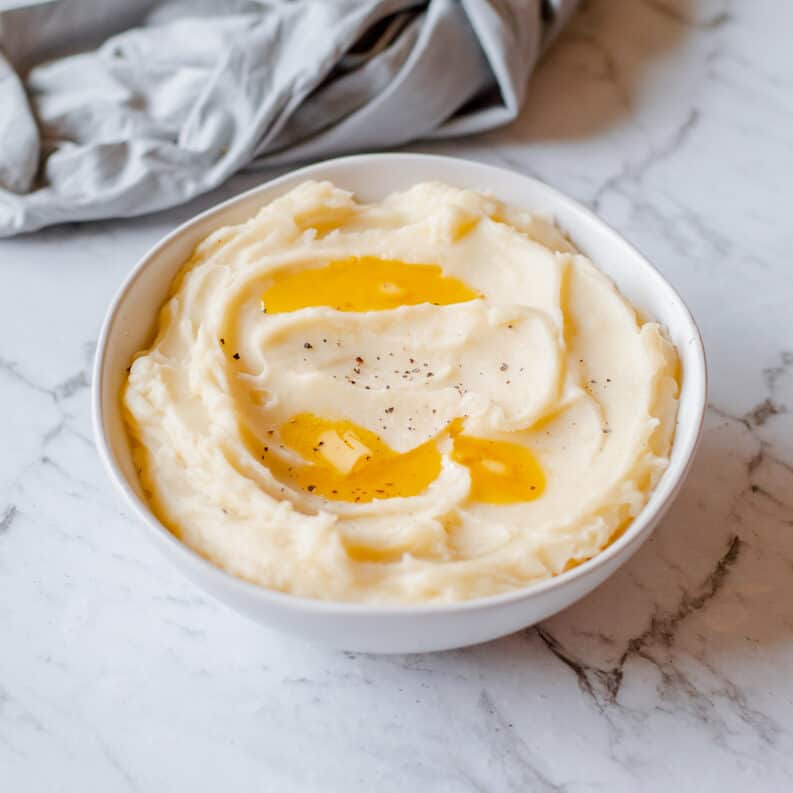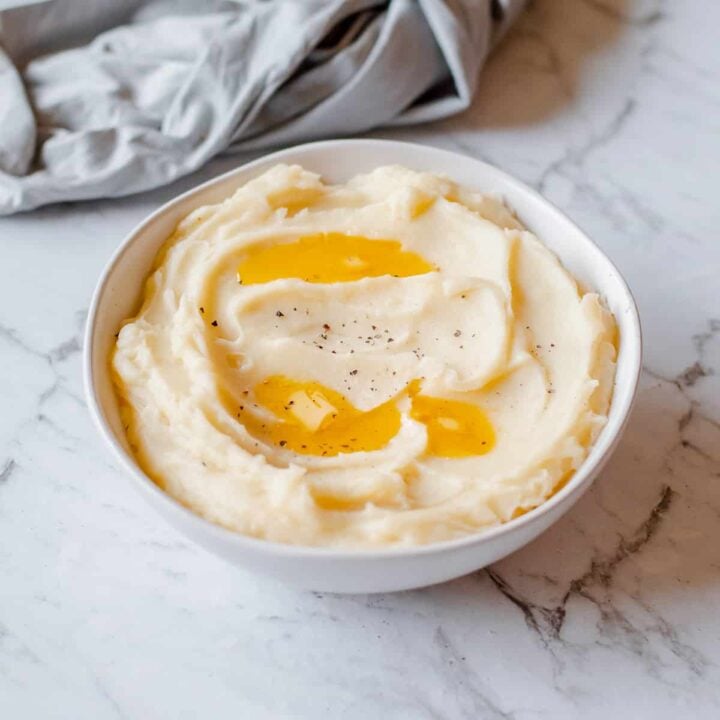 Thermomix Mashed Potatoes
Additional Time:
5 minutes
An easy method for cooking Mashed Potatoes in the Thermomix. This technique ensures that the potatoes are smooth and fluffy and not gluey.
Ingredients
700g potatoes that are ideal for mashing, see note 1
200g milk
½ teaspoon salt
10g butter
Instructions
Peel and cut the potatoes into 1-2cm cubes. Cutting them roughly the same size will ensure they cook evenly. Place them directly into the mixing bowl and add the salt and milk. Cook for 25-30 mins/95°/reverse/speed 1. The potatoes should be tender and falling apart, if not, cook for a little longer.
Once the potatoes are cooked and soft, insert the butterfly whisk, add the butter and mix for 5-10 sec/speed 3. Do not mix for more than 10 seconds as the potatoes will become gluey.
The mashed potatoes are ready to be served but if you have time, place them in the thermo-server for 5 mins to thicken up.
Serve with some extra melted butter on top if you wish.
Notes
1. Potato - use the following potatoes for the best results: Royal Blue, Red Desiree, Dutch Cream, Kestral, Yukon Golds, Maris Piper, King Edward, Red Pontiac or an all-rounder potato (as labelled by the supermarket).
Troubleshooting
The mashed potatoes have tiny lumps in them: This is quite normal due to uneven cooking. Try and cut them as evenly as possible. I find that with using the Thermomix, there are often a few tiny lumps.
The potatoes look like glue: This is due to over mixing. I recommend not mixing beyond 10 seconds with the butterfly.
Storage & Reheating
You can store mashed potatoes in the fridge for up to 3 days. The easiest way of reheating is in the microwave.
Nutrition Information:
Yield:

4
Serving Size:

1
Amount Per Serving:
Calories:

206
Total Fat:

3g
Saturated Fat:

2g
Trans Fat:

0g
Unsaturated Fat:

1g
Cholesterol:

9mg
Sodium:

324mg
Carbohydrates:

40g
Fiber:

4g
Sugar:

2g
Protein:

6g
The information shown is an estimate provided by an online nutrition calculator. It should not be considered a substitute for a professional nutritionist's advice.