Making Soft Flour Tortillas in the Thermomix is a breeze. Forget the expensive ones that come out of a packet, once you make these, there is no going back!
These 4 ingredient soft flour tortillas are fresh, preservative and additive-free and taste amazing. The dough is straightforward to make in the Thermomix and rolling them does require a little patience but is well worth the effort.
Soft flour Tortillas can be the base of many meals, and our favourite way of using them is for chicken tacos. You can also make your own taco seasoning which saves money buying the tiny packets from the supermarket. Skinnymixers has a great Thermomix recipe for Mexican spice here. Supermarket tortillas never seem to come in the right size or quantity, so making your own is much more flexible.
Step by Step Tips on How to Make
See the recipe card at the bottom of this post for exact quantities etc.
Add all the ingredients to the Thermomix and mix together. Then knead for 1 minute until it comes together.
Photos 1-6 Below
Turn the dough out onto a lightly floured surface and knead into a ball.
Cut the ball in half.
Cut into 4 pieces.
Cut into 8 pieces.
Shape the individual dough pieces into a ball and press down with the palm of your hand into a disc shape. Leave to rest for 15 minutes.
Roll each one into a rough circle shape measuring about 20cm. The dough is forgiving, so the thinner you can roll it the better; otherwise, the tortilla will be thick and heavy. Put each circle aside individually without stacking the tortillas on top of each other. I used side plates for this as I didn't have enough surface space.
To Cook the Tortillas
Preheat a large frying pan/skillet on medium to high heat. Cook each tortilla for 45 seconds to 1 minute until air bubbles start to form on top then flip over and cook the other side. Proceed with the others and keep warm on a plate covered with a tea towel. Whilst cooking, it's important to watch them like a hawk as they can quickly burn.
Ways to Use Flour Tortillas
Wraps
Enchiladas
Pizza Base
Serve them with Fajitas.
Make Tortilla Chips - cut into wedges and bake in the oven on 160°C until crisp.
Burritos
Fold and fry them into Quesadillas with a delicious filling inside.
How to Store Tortillas
Homemade tortillas are best eaten fresh but can be stored in the refrigerator in an airtight ziplock bag for up to a week.
How to Freeze Tortillas
Let the cooked tortillas cool completely then separate each one with some baking paper and stack on top of each other. Place into a ziplock bag and freeze for up to 3 months. Defrost either in the microwave or on a heated frying pan.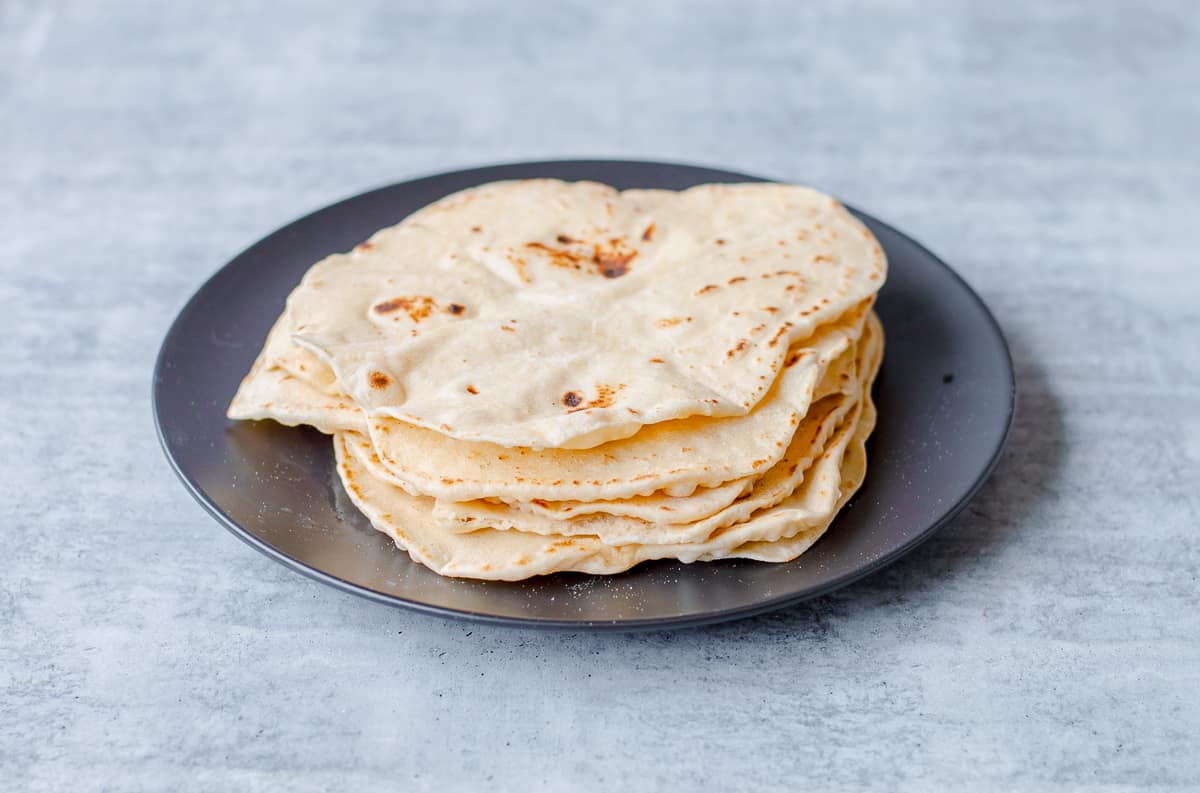 You Might Also Like
Thermomix Naan Bread
Thermomix Hummus
Thermomix Tahini
Thermomix Soft Bread Rolls
Thermomix Cheat's Sourdough
Thermomix Focaccia