Fake it til you make it with this Thermomix Cheat's Sourdough! This version requires less time and effort and tastes pretty much the same as the real deal.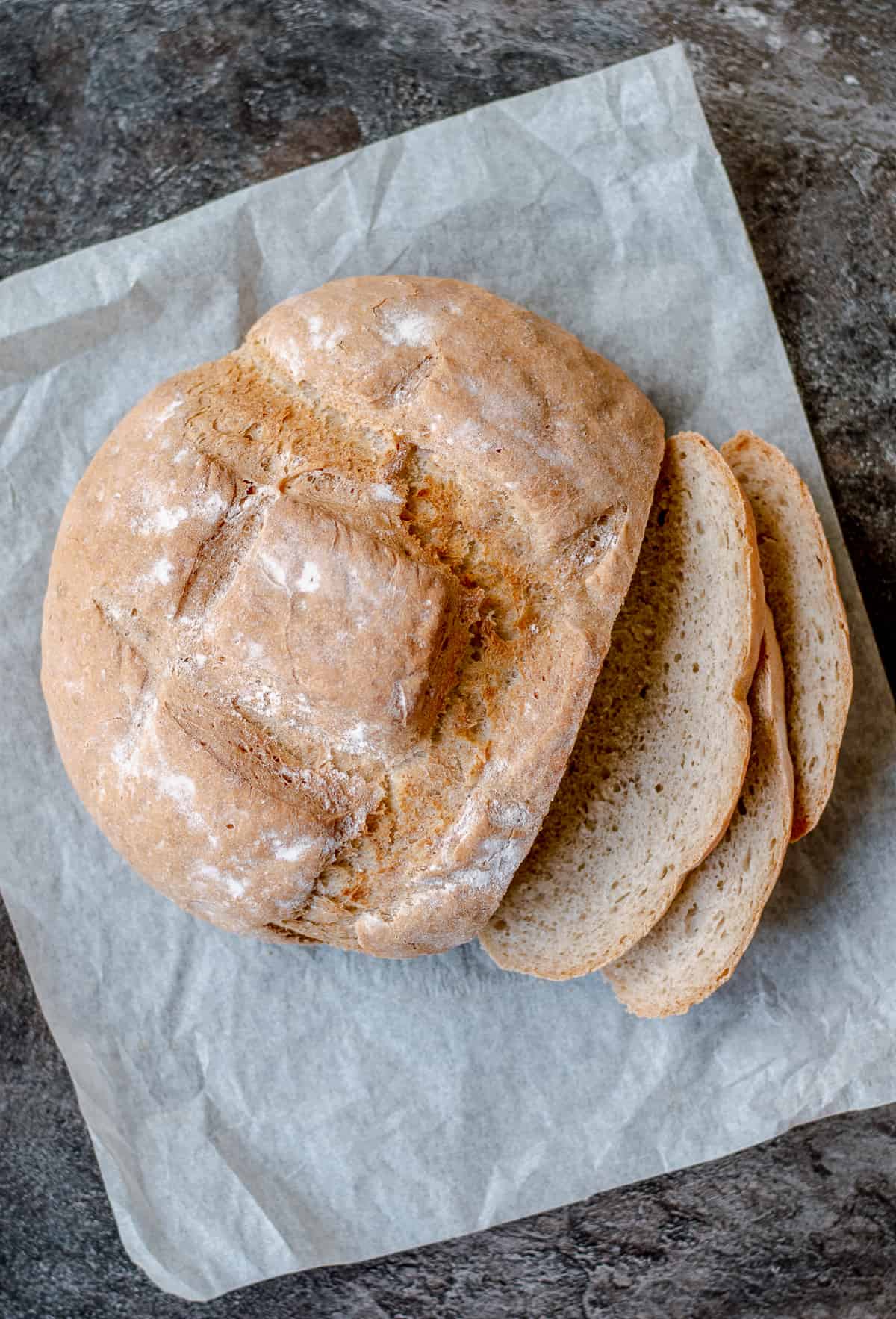 It's been the year of banana bread, dalgona coffee and sourdough. I've made the first two recipes which are on the blog but have struggled with the concept of feeding a starter and it taking over my life.
That's where this recipe comes in handy! This cheat's sourdough has the tangy taste of sourdough but is made with yeast and in a fraction of the time. The 'starter' is left to bubble overnight, so it's still a little long-winded but well worth the effort.
There are a few steps to follow, but once you get the hang of it, it's straightforward.
Ingredients to Make Cheat's Sourdough
Rye Flour & White Bread Flour: Cheat's sourdough is typically made with a combination of rye flour and white bread flour. The rye flour helps achieve a better flavour and fermentation. It's not readily available in the supermarket, but you can buy it at health foods shops and in Australia it's sold at The Source Bulk Foods. If you can't get hold of any, it still works well with just white bread flour.
7g sachet of fast-action dried yeast: If you don't have the handy sachets, just measure out 7g using accurate scales.
Water: I use cold water straight from the tap but, the experts use filtered water. It still turned out ok.
Salt: For flavour and to tighten the gluten structure and to add strength to the dough.
How to Make Cheat's Sourdough
See the recipe card at the bottom of the post for ingredient quantities.
Mix the starter in the Thermomix - this is a combination of rye flour, white bread flour, water and yeast.
Leave it in a warm place to ferment overnight - it will expand and bubble up.
Mix the starter with the remaining white bread flour, water and salt.
Leave to rise for 2-3 hours until double in size - it's always best to watch the dough and not the clock as rising will depend on climate and humidity.
Knockback the dough once, then turn it out onto a lightly floured surface and bring into a ball. Fold the bottom edges of the ball together to create a smooth surface on top (see image 5 & 6).
Place the dough on some lightly floured greaseproof paper and leave the dough to rise for an additional 1 hour. Preheat the oven 20 minutes before the hour is up.
Risen dough all ready to be baked.
Score the top of the dough with a sharp knife - this is so when it rises, it doesn't crack in unexpected places, and it also looks prettier.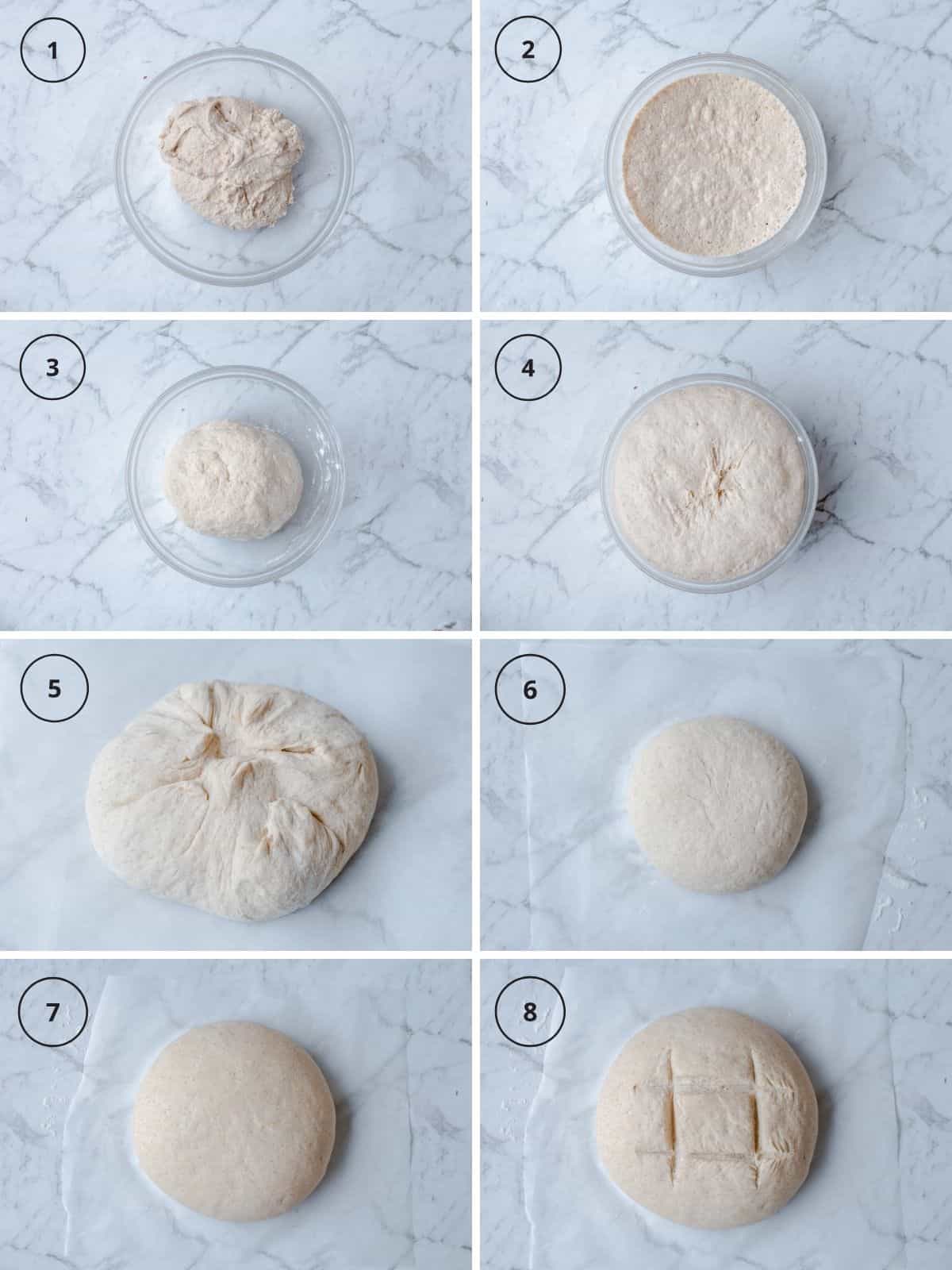 This cheat's sourdough takes about 35 minutes to bake and is ready when it sounds hollow when tapped underneath. Pour some water in a preheated baking tray - this gives the dough a lovely crisp crust.
How to Store Cheat's Sourdough
Homemade bread is best consumed within 2-3 days. To help keep it fresh, store in an airtight plastic bag at room temperature.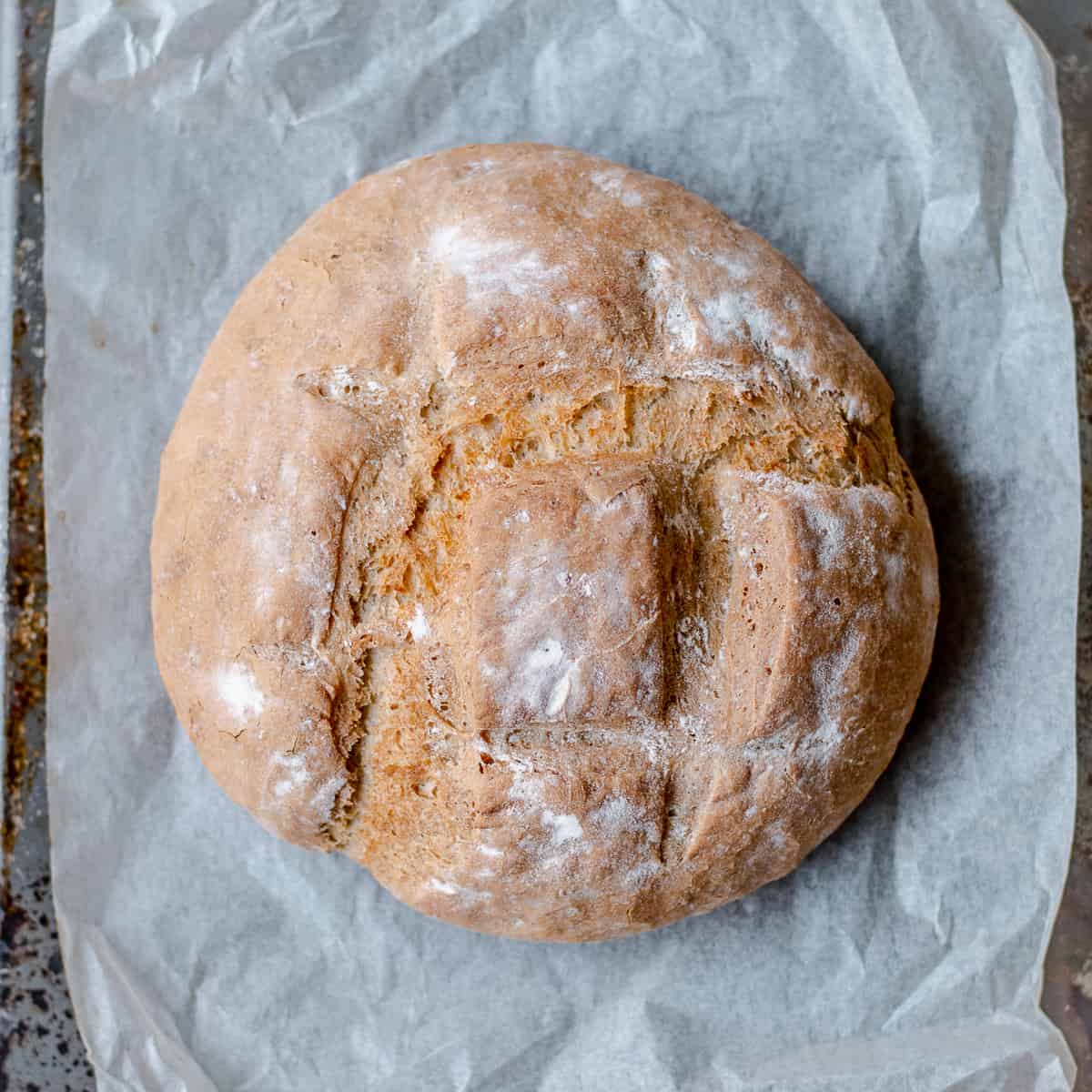 You Might Also Like
Thermomix Soft Bread Rolls
Thermomix Naan Bread
Thermomix Soft Flour Tortillas
Thermomix Focaccia Bread
Thermomix Soft Flour Tortillas