This traditional Thermomix Gingerbread is super easy to make, and nothing beats the aroma of baked gingerbread wafting through the house. Cut out into any shape you wish and decorate to your heart's content!
Christmas wouldn't be the same without baking a big batch of gingerbread biscuits. I've experimented with a few recipes for making gingerbread in the Thermomix, and this one turned out the best. Everyone loves this recipe, and they don't last long in our house.
For this recipe, I've used two teaspoons of ginger and a quarter of a teaspoon of cinnamon which we love. You could always play around with the spices by adding a little nutmeg, ground cloves, ground cardamom, and some grated orange peel. There's no harm trying a little dough just to check the spice is right.
How to Make Step by Step
I like to use chilled butter and soften it in the Thermomix first. Then once it's softened, just add the remaining ingredients then knead for a couple of minutes or so. Then turn the dough out onto a lightly floured surface and knead into a ball.
Cut the dough ball in half, flatten them to a disc shape then wrap in plastic and refrigerate for 20 minutes - they chill quicker, and it's easier to roll out this way.
When the dough is chilled, roll each disc out onto some baking paper so that it doesn't stick.
Cut into any shape you wish!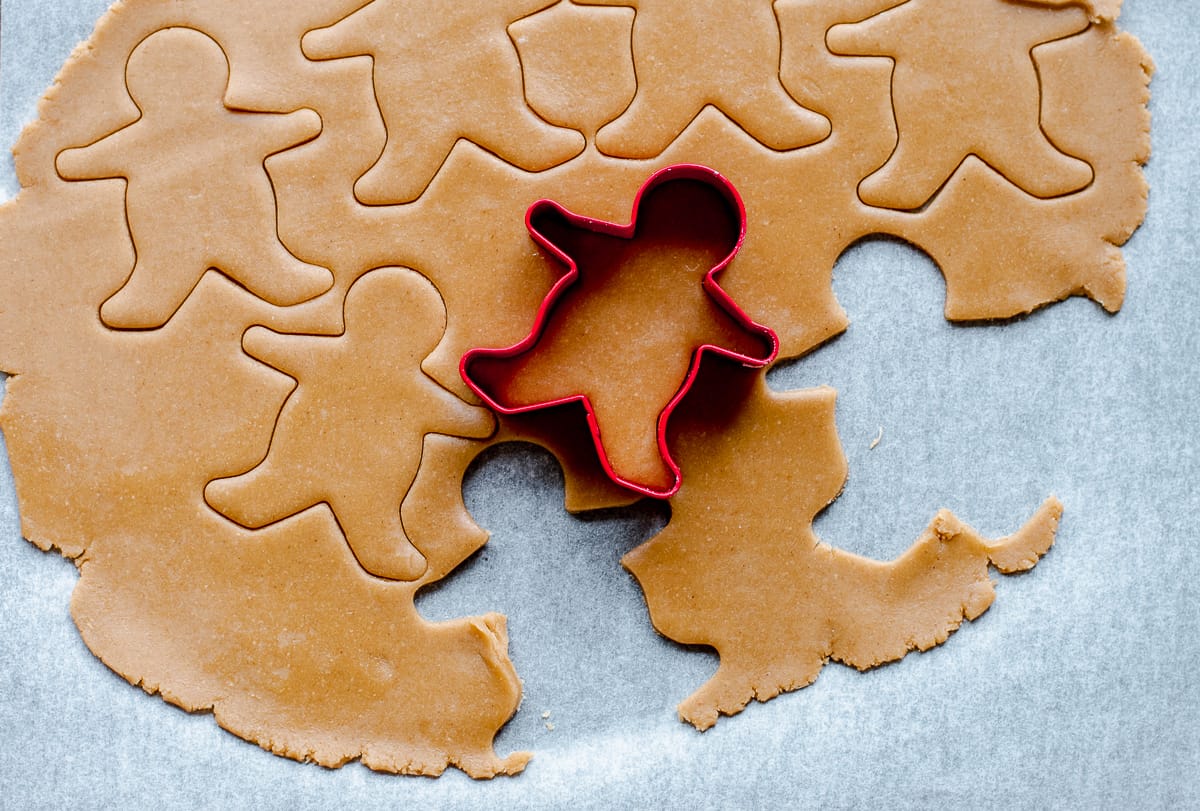 Place carefully onto an oven tray - I used a spatular to lift these gingerbread men, so their legs didn't break.
Bake in the oven for 10-12 minutes until lightly golden around the edges then leave to cool on the tray for a few minutes.
After a few minutes, lift the gingerbread off the baking tray and allow to cool completely on a cooling rack.
Decorate to your heart's content or just leave bare!
Make Ahead and Freeze
Raw gingerbread dough can be stored in an airtight container in the freezer for up to 3 months.
Some more Thermomix Christmas Recipes you might like
Christmas Melting Moments
Thermomix Chocolate Christmas Biscuits
Traditional Shortbread
Christmas M&M Cookies
Easy Mince Pies
Fruit & Nut Bark