This delicious Thermomix Guacamole is super quick and easy to put together. It's made with the right balance of fresh ingredients and is the perfect dip to have with tortilla chips.
A barbecue or party isn't complete without a bowl of Guacamole and chips. It's the best appetiser to serve along with hummus.
Jump to:
Why You'll Love It
No mayo, no garlic, and definitely no sour cream!
Tastes so much better than store bought.
7 ingredients.
A nutritious plant-based dip or a tasty topping.
Ingredients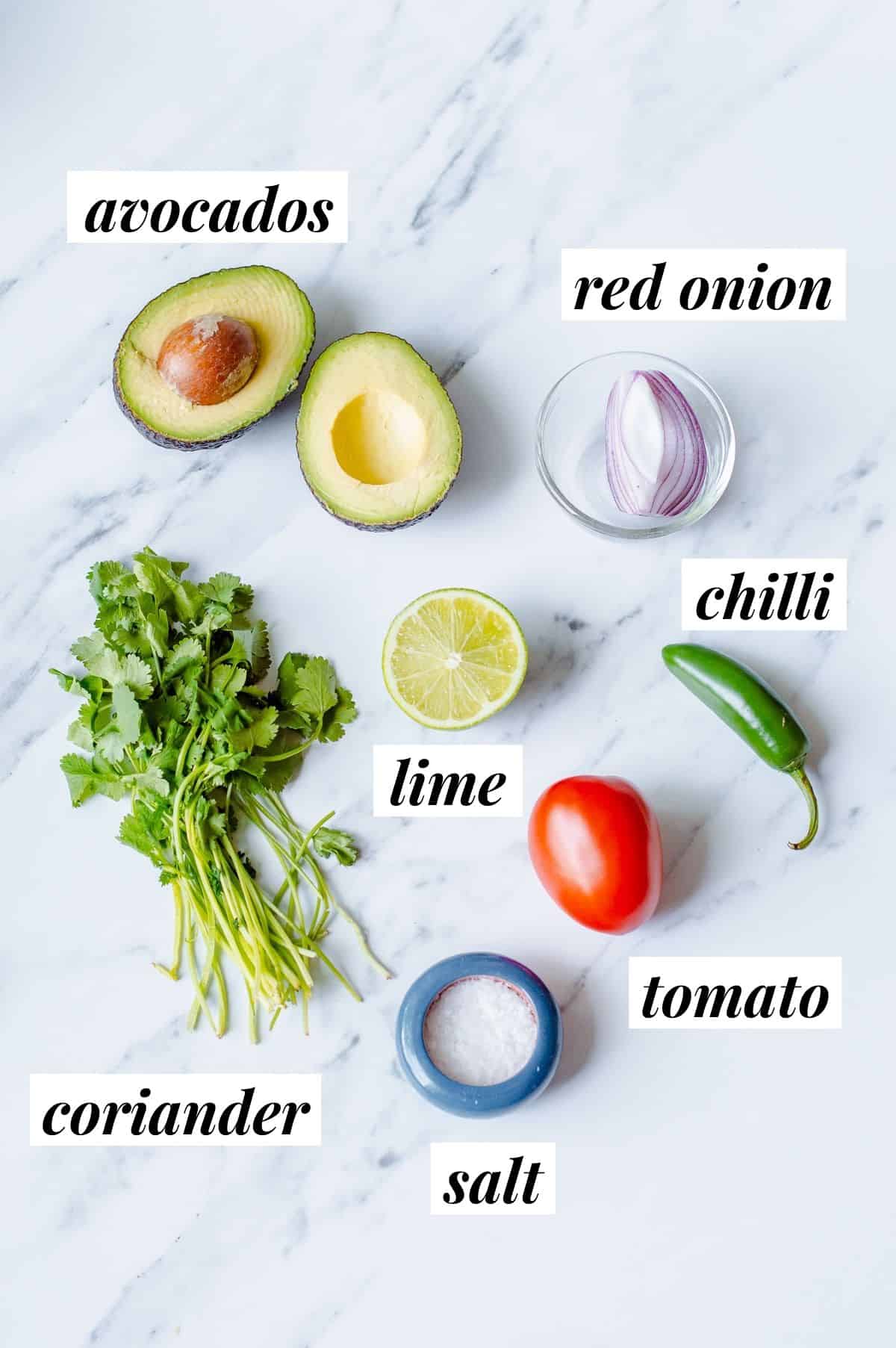 Note: The full quantities are shown in the recipe card below.
Avocados - ensure they are ripe without any brown blemishes. From my research, Hass avocados are the best to use, as they are the creamiest.
Roma tomato - the addition of tomatoes is optional in many Guacamole recipes. I love the contrast of flavours and colour, so I have included it. Roma tomatoes are best used because they are less watery.
Red onion - use a quarter of a small red onion. Too much will burn the back of the throat.
Coriander - use fresh coriander.
Lime juice - use fresh lime juice for a bit of zing. Lemon juice can also be used if you don't have any limes.
Jalapeno chilli pepper - purely optional if you like a spicy kick. Can be replaced by dried chilli flakes.
Salt to taste - don't skip the salt! It enhances the flavour.
Step by Step Directions
Note: This is a summary of the instructions. The full ingredients and instructions are shown in the recipe card below.
Step 1. Add the red onion and coriander to the Thermomix bowl and mix for 3 seconds on speed 7. Scrape down the bowl.
Step 2. Add the tomato and chop for 3 sec/speed 6. Scrape down the bowl.
Step 3. Add the avocado, lime juice, and mix for 2 seconds on reverse speed 5. If you like the Guacamole smoother, mix again for 1-2 sec/reverse/speed 5.
Taste Test
Very important! After mixing, stir in salt and extra lime juice to taste gently with a spoon. Add some sliced Jalapeno peppers if desired.
Storage
Avocados are troublesome to store without turning murky brown. The only thing that slows down the browning process is to exclude them from air. An excellent way to do this is to press cling film (glad wrap) on the surface.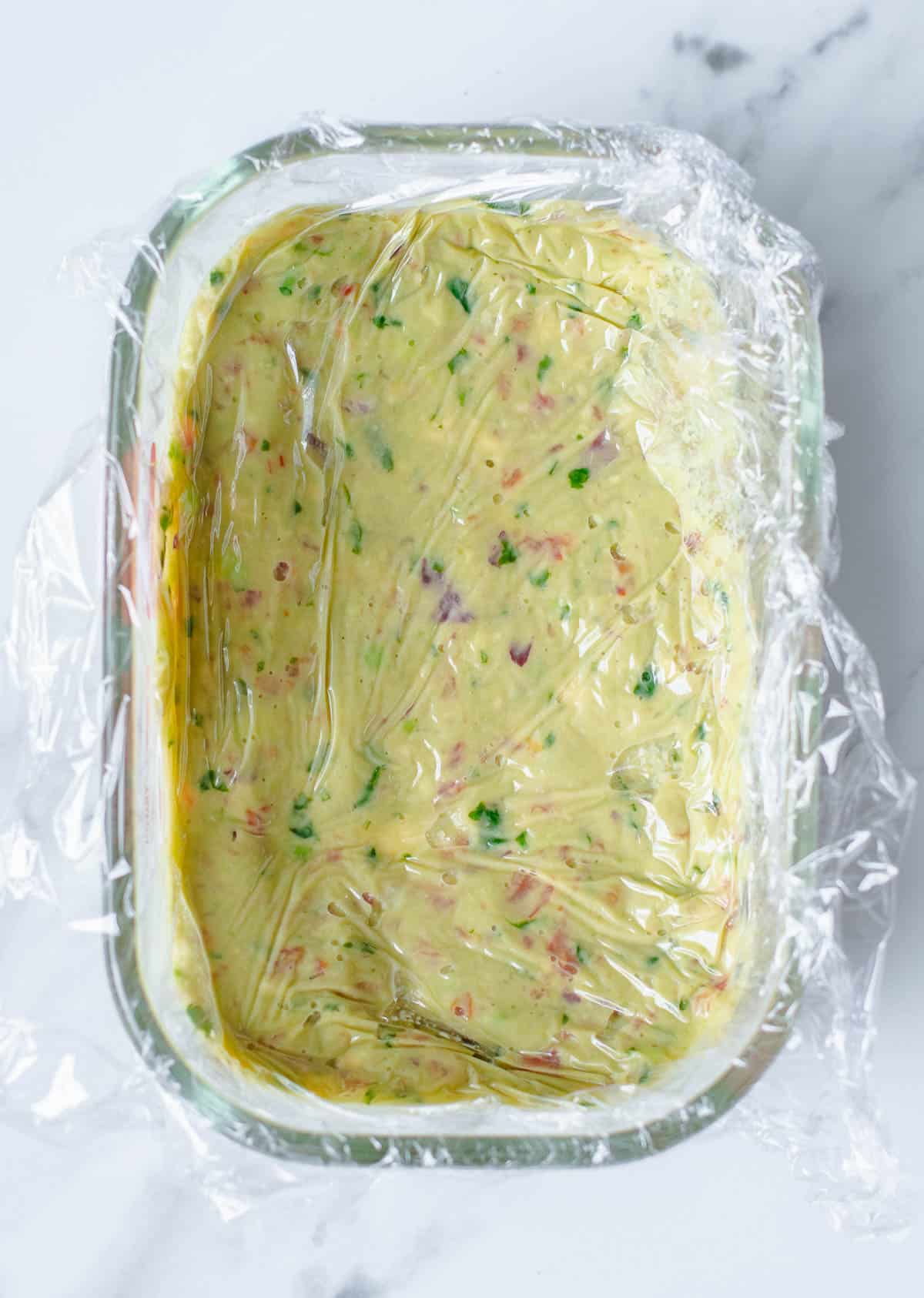 To store the Guacamole, place in an airtight container, squeeze a little lime juice on the surface and press cling film (glad wrap) on it as best you can. It will last two days in the fridge.
Serving Suggestions
We love our Guacamole with tortilla chips and veggie sticks. It also tastes amazing on toast or as a delicious topping on nachos, quesadilla, tacos etc.
Related Recipes
Hummus
Roasted Beetroot Hummus
Soft Flour Tortillas
Thermomix Margaritas