Bring on the warm weather with this classic Thermomix Lime Margarita. One sip and you'll be transported to a beach bar on a sun-drenched island.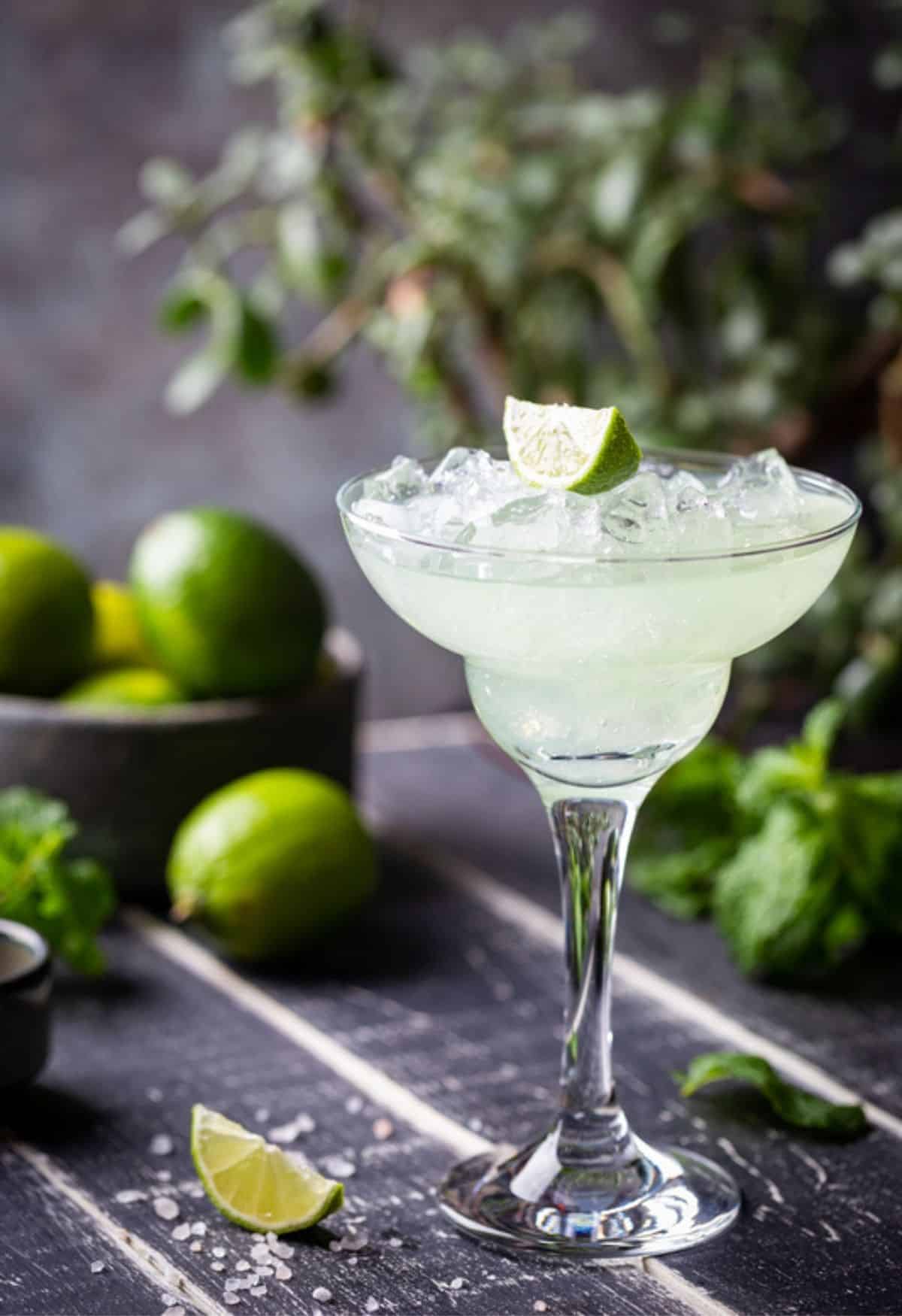 Nothing says summer like a Margarita. Get that holiday feeling at home with this simple recipe made of tequila, Cointreau, fresh lime juice and sugar syrup. If you love lime cocktails, pop over to my Mojito recipe, which I made last week.
Jump to:
Why You'll Love It
Only 4 ingredients.
Instant summer vibes.
Easy to make with the Thermomix.
Ingredients
Note: The full quantities are shown in the recipe card below.
Tequila - the star ingredient! Choose silver or blanco tequila.
Cointreau - an orange liqueur which can be replaced with Grand Marnier or Triple Sec.
Lime juice - freshly squeezed lime juice is a must.
Sugar syrup - optional. Sugar syrup is equal parts of boiling water and sugar stirred together until the sugar dissolves. I have a Thermomix recipe here. Agave syrup can replace sugar syrup.
Step by Step Instructions
Note: This is a summary of the instructions. The full ingredients and instructions are shown in the recipe card below.
Salting the Rim
For an authentic Margarita, salting the rim is a must. To do this, prepare a dish with generous amounts of salt. Take a wedge of lime and cut an incision in the flesh then run it around the rim of the glass. Tip the glass upside down and twist it in the salt, until the rim is covered. Add a couple of ice cubes to each glass.
Step 1. Add the lime juice, tequila, Cointreau and sugar syrup (if using) to the Thermomix bowl. Add a handful of ice cubes and mix for 10 seconds on reverse speed 4.
Step 2. Insert the simmering basket into the Thermomix bowl and strain the Margarita into the prepared glasses. Stir gently and enjoy 😊
Related Recipes
Gin & Tonic Sorbet
Peach Bellini
Espresso Martini