A simple guide on How to Freeze Cookie Dough so you can enjoy freshly baked cookies within minutes with minimal effort!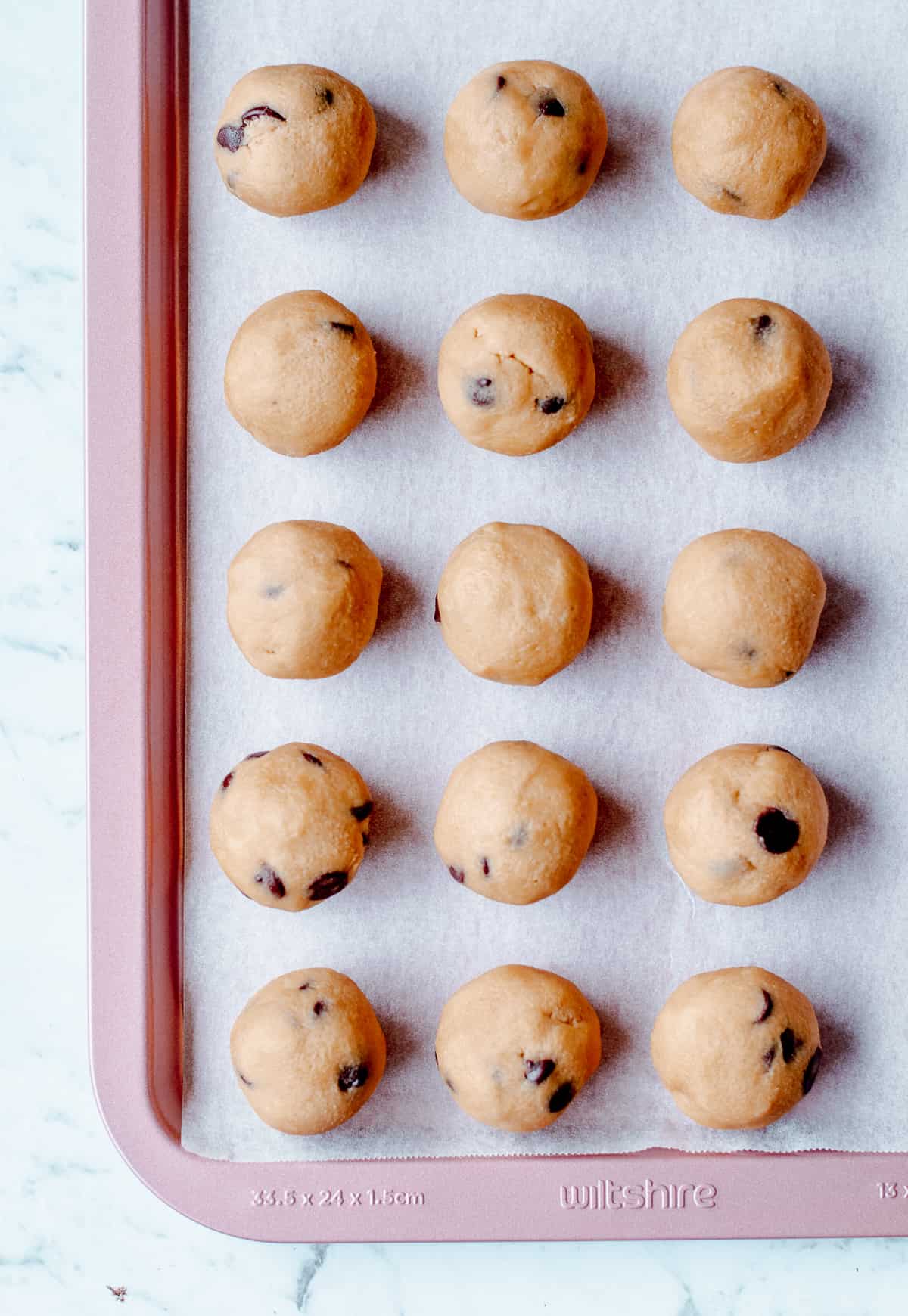 Storing cookie dough in the freezer is a great way to ensure you always have warm gooey cookies on hand. They take a few minutes to prepare, but once you have a stash in the freezer, you can enjoy freshly baked cookies at any time of day.
Great Reasons to Store Cookie Dough in the Freezer
Ready-made cookies, any time of day.
Visitors, dropping by unannounced.
A school fete or bake sale.
To get ahead with holiday baking.
Homemade gifts for anyone and everyone.
Step 1
Make the cookie dough and refrigerate it for 1 hour, this makes it easier to roll into balls. I have a fantastic recipe for Chocolate Chip Cookies which you can find here.
Step 2
After the dough has been refrigerated, take a small amount and roll into a walnut-sized ball. Keep doing this until all the dough is used up. If you have a unique cookie scoop - even better! Or an ice cream scoop works well for larger cookies.
Place the cookie dough balls on a baking sheet lined with greaseproof paper and transfer back to the fridge for a couple of hours to harden - this is so they don't stick together when frozen.
Step 3
Transfer the cookie balls to a ziplock bag and press out as much air as possible. Don't forget to write the name, cooking instructions, and use-by date.
To Bake From Frozen
The best thing about frozen cookie dough balls is they only take a couple of minutes extra to bake and no thawing time is required. I bake mine at the same temperature as fresh cookies, and they always come out well.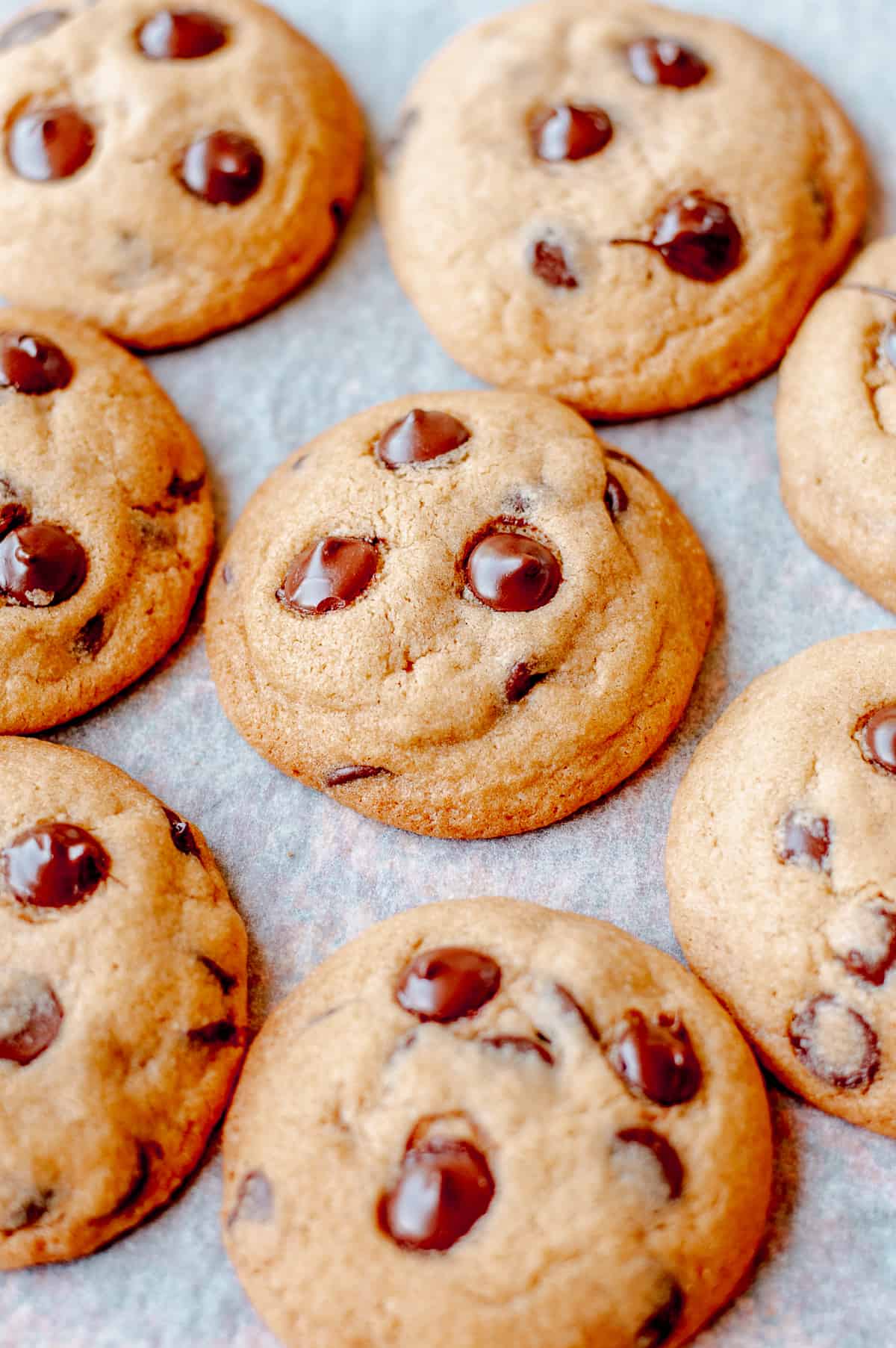 So now you know how easy it is nothing is stopping you having a freezer full of raw cookie dough!
You Might Also Like
How to make your own Cafe Style Muffin Cases
How to Freeze Strawberries
Chocolate Chip Cookies Recipe
📖 Recipe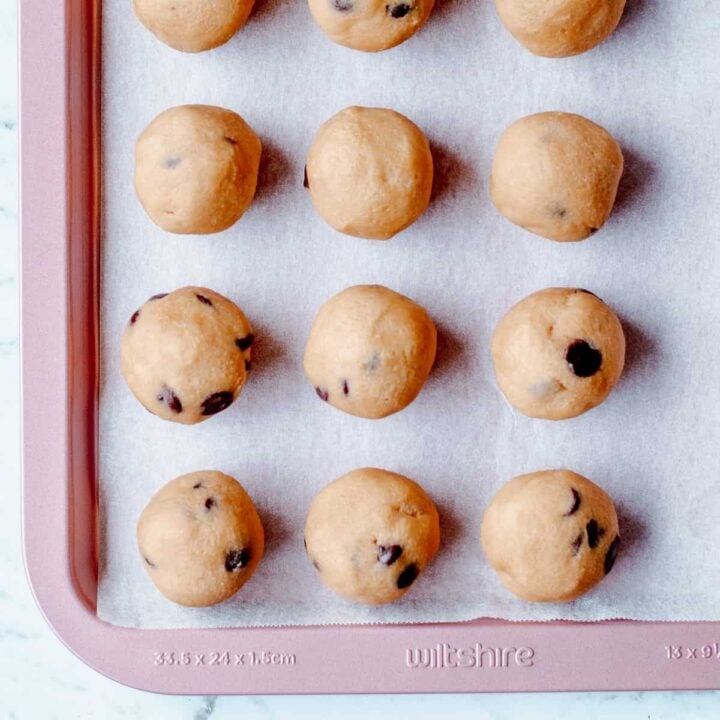 How to Freeze Cookie Dough
Easily freeze raw cookie dough so you'll always have freshly baked cookies on hand for any last minute guests.
Materials
Baking tray
Greaseproof paper
Ziplock bag
Ingredients
1 quantity of cookie dough
Instructions
Place the cookie dough in the fridge for an hour to harden so it's easier to roll.
Take the dough out of the fridge and roll it into walnut-sized balls, place on a baking tray or plate lined with grease proof paper and place back in the fridge for a couple of hours.
Once the balls have hardened, transfer them to a ziplock bag, label it, and freeze for up to 3 months.
To bake, just cook for a couple of minutes extra.