This refreshing Thermomix Mango Sorbet with Mint and Lime is creamy, tangy and tropical. Made with only a few ingredients, it's the perfect way to cool down on a hot summers day.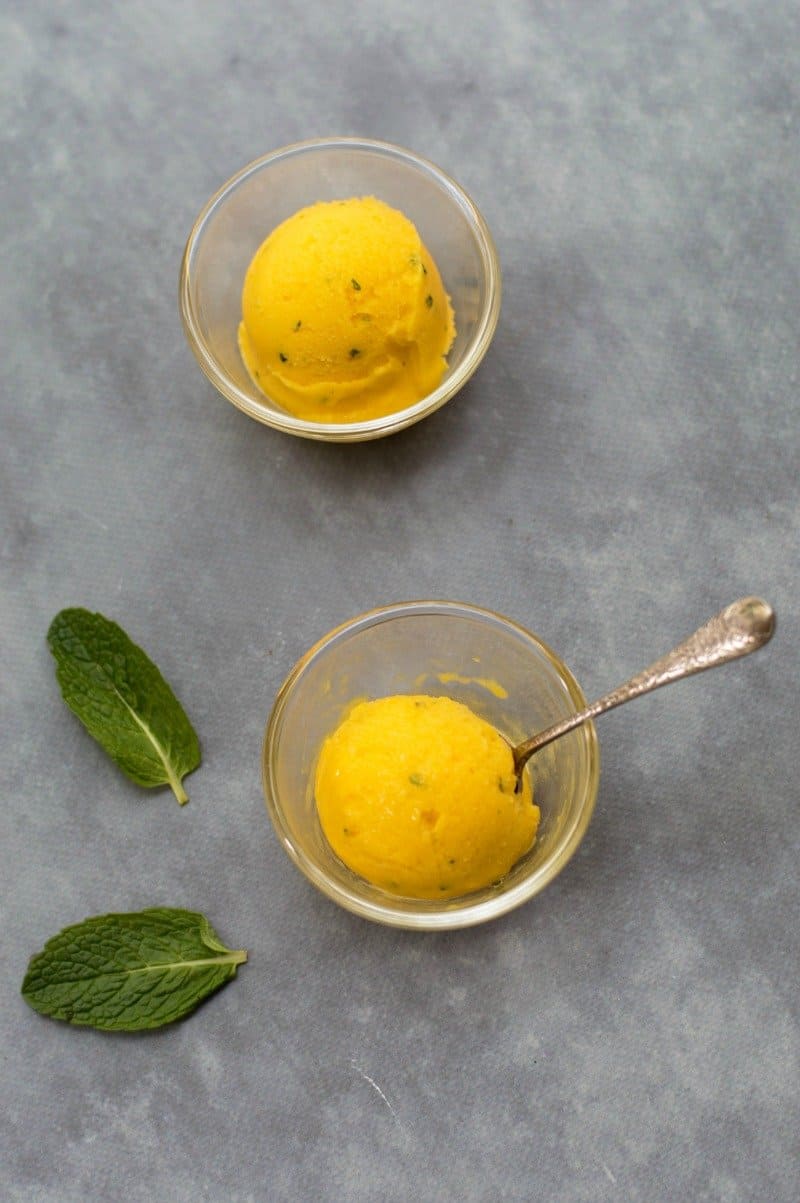 One of the fabulous things about the Thermomix is the ability to make sorbets almost instantly without an ice cream maker. Homemade sorbets are so much better without all the added sugar and preservatives and it will save you pennies as well.
Both Coles and Woolworths sell bags of frozen mango pieces in the freezer section for about $4 each so you could make this dessert all year round. Cutting fresh mangoes has never been my strongest point so the frozen pieces make life so much easier with less effort and mess.
For this recipe, I've added some fresh mint leaves, lime juice and honey to jazz it up. The subtle flavours remind me of a Mojito but without the rum! There's no need to add cream as mangoes are naturally creamy which makes them a great base for other sorbets such as my Raspberry Mango Sorbet.
Step by Step Instructions
Start by adding the frozen mango and mint to the Thermomix bowl and crush for 20 sec/speed 9.
Insert the butterfly attachment, scrape down the bowl and add the lime, honey and egg white. Wait five minutes or so for the mango to thaw and soften so that the butterfly doesn't get stuck.
Mix for 1 min/speed 3, scrape down the bowl and mix again for 1-2 minutes/speed 3. If the butterfly is having trouble turning just leave the mangoes to thaw for a little bit longer.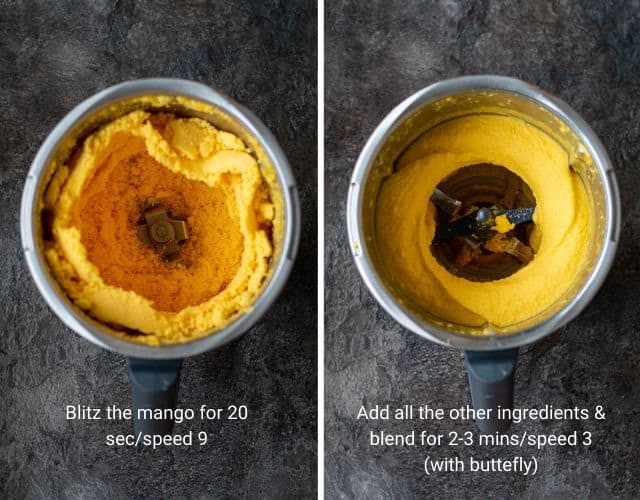 Once blended, it's ready to enjoy straightaway or store in the freezer for later.
You Might Also Like
Thermomix Pineapple Sorbet
Thermomix Dairy Free Chocolate Mint Ice Cream
Thermomix Nutella Ice Cream
Gin & Tonic Sorbet