If you love rhubarb then you'll love this Thermomix Rhubarb Crumble. Quick and easy to make and extremely comforting on a cold chilly day, especially when served with piping hot custard.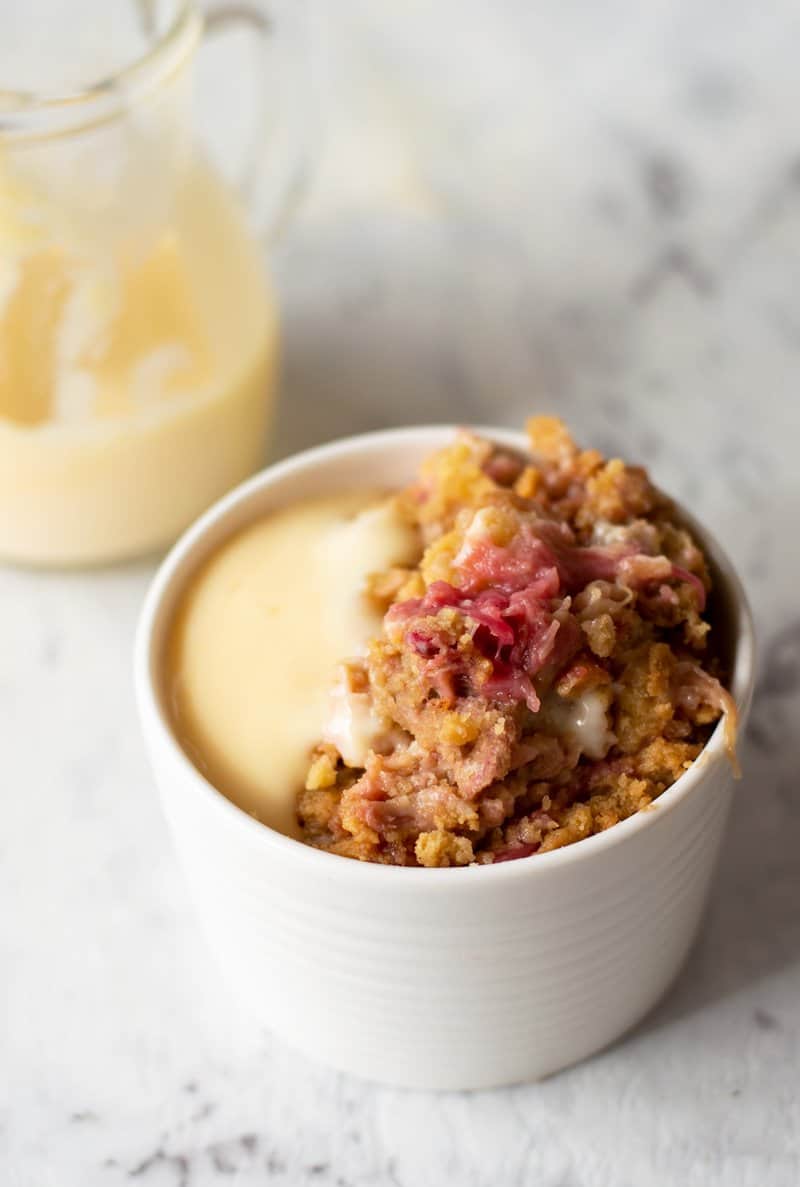 A crumble is a typical English dessert in which many fruits can be used, the most popular being apples for Apple Crumble, or Blackberry & Apple Crumble.
I love using fresh rhubarb for crumble when it's in season, the sharpness paired with the sugary buttery topping tastes amazing and you can't beat the irresistible aroma wafting through the house whilst it's baking.
A traditional rhubarb crumble is best served with hot custard or if you're not a custard fan then vanilla ice cream or a dollop of freshly whipped cream also works well.
How to Make
Wash and cut the rhubarb stalks into 2-3cm pieces and arrange in a shallow baking dish (there's no need to precook the rhubarb as it will soften in the oven). Sprinkle over the sugar and toss to combine.
To make the crumble topping, just mix the flour, butter and sugar in the Thermomix for 15-25 sec/speed 5. The mixture should come together and look a bit like wet sand. Be careful not to over mix otherwise you'll end up with rhubarb pie!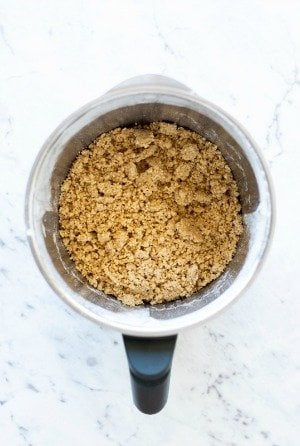 To assemble, pour the crumble mixture over the rhubarb filling and press down gently with the back of a fork. Bake in the oven for 40-45 minutes until golden brown and the rhubarb starts to bubble through the sides.
Make it Different
Add some grated orange zest and a teaspoon of ground ginger to the rhubarb mix.
Sprinkle some jumbo oats over the crumble topping before baking.
To Make Ahead and Freeze
The good news is you can make rhubarb crumble ahead and freeze it for another day. For best results, it's best to freeze before being baked in the oven.
Just assemble everything together then cover well and put into the freezer uncooked. To thaw, defrost overnight in the fridge then bake as you would for 40 minutes.
If you love crumble as much as me, check out my Spiced Pear Crumble, Blackberry & Apple Crumble and Thermomix Apple Crumble.
More Comfort Food Desserts
Lemon Delicious
Salted Caramel Sauce
Chocolate Pear Pudding
Apple Galette
Sticky Date Pudding