Whipping cream from scratch in the Thermomix is easy if you follow these tips. Never buy store bought whipped cream again when you can have freshly whipped cream in under 3-4 minutes.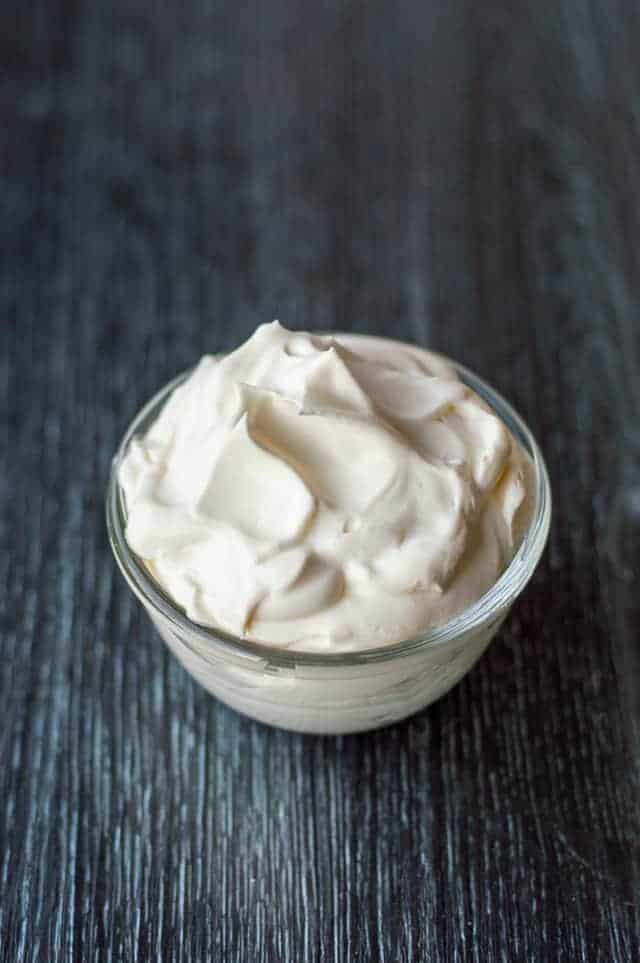 Freshly whipped cream is a real luxury and delicious addition to many desserts such as Pavlova, my Chocolate Pear Pudding, Lemon Delicious, Apple Crumble and pretty much any other dessert.
If you follow these tips you can achieve the perfect Thermomix Whipped Cream every time.
Thermomix Whipped Cream Tips
Whip the cream chilled straight from the fridge. If it's a hot day then chill the Thermomix bowl in the fridge for 10 minutes beforehand. This will help speed up the process.
Use full fat whipping cream and not light cream. You could always sweeten it with a little honey, vanilla extract or icing sugar.
Insert the Butterfly attachment first and never mix past speed 3.
It is recommended not to mix more than 600g cream at any given time.
Watch it REALLY carefully through the lid. Once it starts to become thicker it progresses quickly and you don't want to end up with butter and buttermilk! Timing varies on freshness and quantity. I always watch it after about 20 seconds. When it becomes thicker the sound of the blades spinning will change.
When I first used the Thermomix for whipped cream it took me a couple of goes to get it right. If you're not sure on the thickness, just stop, open the lid then mix again for another 3+ second increments. Best of luck!
Did You Know You Can Make Cream Into Butter?
Making your own butter from scratch is easier that you think. Check out my recipe on How to make Butter in the Thermomix.
Some Of My Recipes That Taste Delicious With Freshly Whipped Cream
Homemade Scones
Rhubarb Crumble
Thermomix Hot Chocolate made with Real Chocolate
Lemon Tart
Apple Galette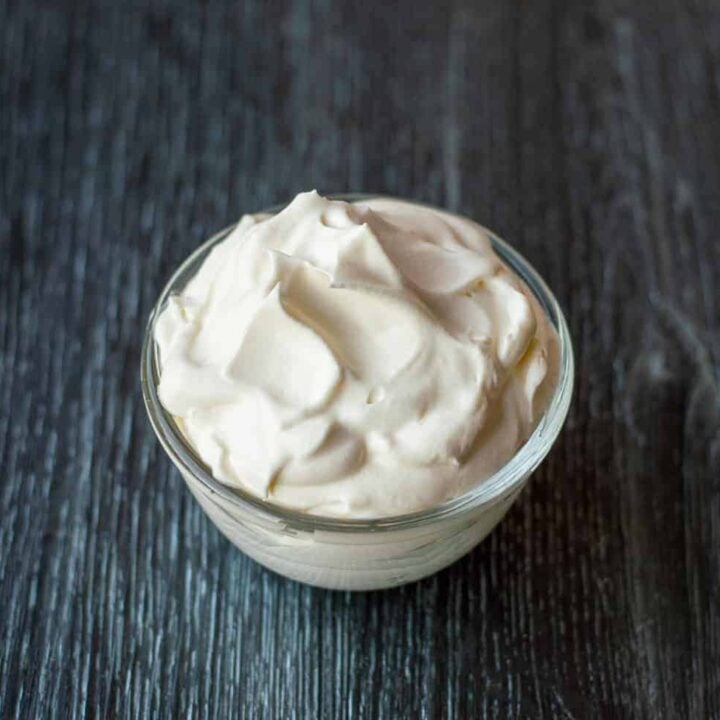 Whipping Cream in the Thermomix
How to whip up the perfect cream using the Thermomix in next to no time.
Ingredients
200g-600g full fat whipping cream, chilled
Instructions
Insert the Butterfly attachment into the Thermomix bowl.
Add the cream and whip for 30-90 sec/speed 3 with MC off. Timing varies on quantity and freshness of the cream and how chilled it is.
Watch it really carefully through the lid after about 20 seconds to avoid over whipping. If you're not sure on the thickness, just stop, open the lid then mix again for another 3+ second increments.
See my tips in the recipe post to achieve perfect results.
Notes
Whipped cream can be sweetened with a little honey, maple syrup or icing sugar.