This Thermomix Apple Galette is super easy to make and a delicious dessert to have during the week or after a Sunday roast.
A Galette is a cross between a pie and a tart but a lot easier to make. I love how rustic it looks and there is no need to blind bake the pastry which saves a lot of time faffing around. You can use many different fruits, and I have a fantastic recipe for Thermomix Peach Galette.
Tips on How to Make
There are a few simple steps involved when making an Apple Galette. The Thermomix makes such light work of making pastry and my recipe for Sweet Shortcrust Pastry comes out perfect every time and is very forgiving during rolling.
The pastry needs to be chilled for at least half an hour before rolling it out and filling it. During this time you can get on with the peeling, coring and slicing the apples. I like to use Granny Smiths as their taste is tart but you could get away with whatever is left in the fruit bowl. If using sweet apples such as Gala or Golden Delicious, don't add as much brown sugar to them.
Rolling out the pastry is my favourite part as it doesn't have to look perfect - the more rustic looking the better! Once rolled out, place the apples in a single layer then fill in any gaps with any apple slices that are leftover. Don't pile them too high or the bottom of the crust will become soggy. It's good to leave a border of about 3-4cm and then fold over the pastry and pinch together with your fingers like the photo below.
Brush the edges with egg wash for a golden brown crust then dot a few cubes of the butter over the top of the apples. The butter melts over the apples and adds a delicious richness.
The Galette is best served warm from the oven with some freshly whipped cream or a scoop of vanilla ice cream on top. It serves approximately six however I made it yesterday and my two teenage daughters and I devoured it all within the hour. 🤭
To Make Ahead
The pastry can be made ahead and kept in the fridge for a few hours. You can make the apple filling ahead as well, just cover it tightly with some plastic wrap and store in the fridge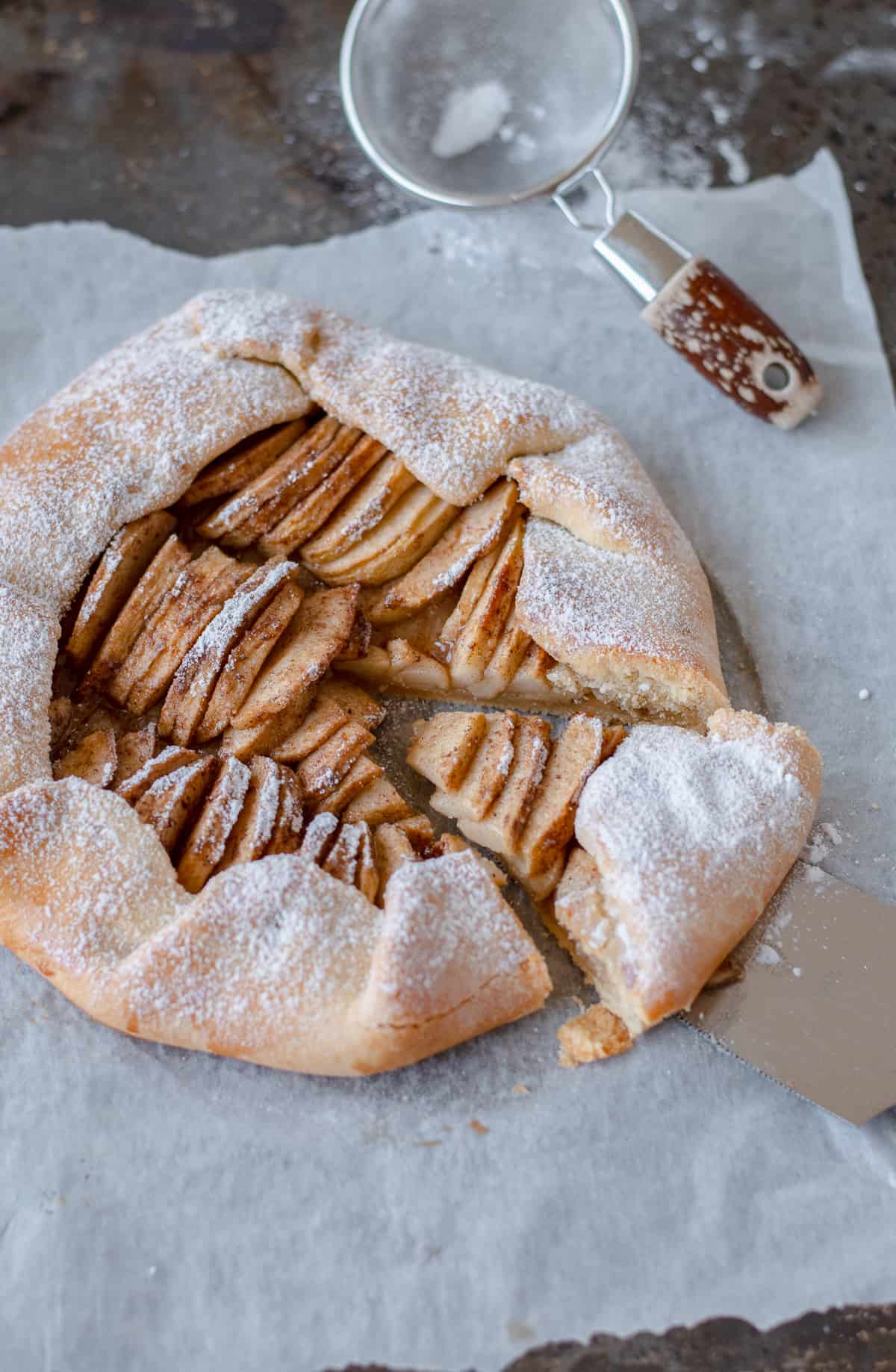 You Might Also Like
Thermomix Lemon Delicious
Thermomix Sticky Date Pudding
Thermomix Apple Crumble
Thermomix Lemon Tart