An easy recipe for Thermomix Sweet Shortcrust Pastry made with plain flour, icing sugar, butter and chilled water. It takes 2 minutes to come together in the Thermomix and is guaranteed not to crack! This recipe makes enough pastry to fill a 23cm tart tin, and I've included instructions on how to blind bake.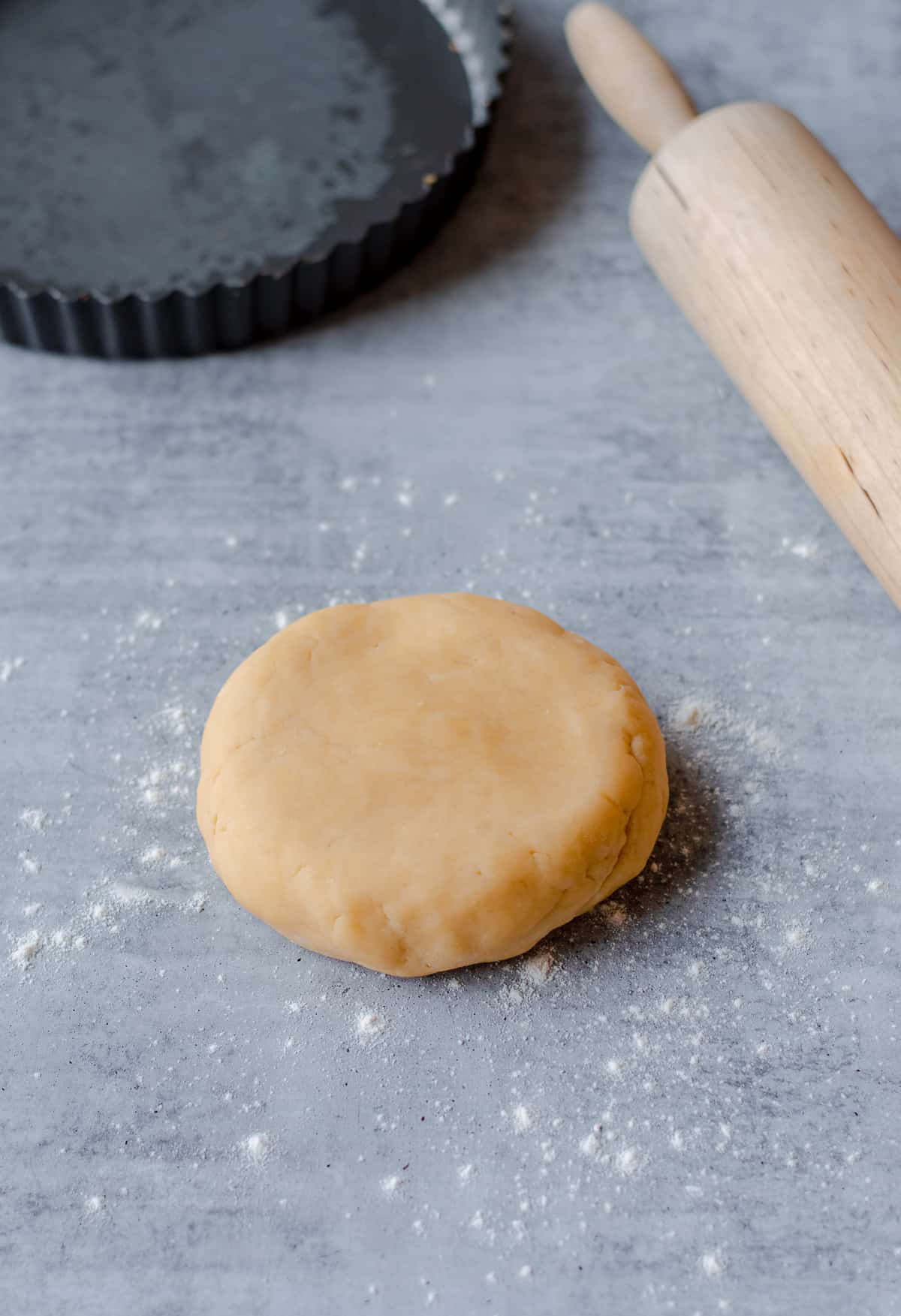 I love making Sweet Shortcrust Pastry in the Thermomix as it saves so much time. Gone are the days of tirelessly rubbing butter and flour with your fingers and dropping the mixture everywhere. It's also good to make in the Thermomix as the warmth of your hands can melt the butter, making the pastry greasy.
I also have a recipe for Thermomix Shortcrust Pastry, used for savoury dishes such as pies, tarts and flans.
Jump to:
Step-by-Step Tips for Making Sweet Shortcrust Pastry
Step 1. Weigh the flour, icing sugar, pinch of salt and butter into the Thermomix bowl.
Step 2. Mix for 10 seconds to form bread crumbs, then add ice-cold water. Ice-cold water prevents the butter from melting.
Step 3. Knead for 1-1½ minutes until the dough comes together into clumps.
Step 4. Empty the dough out onto a lightly floured surface.
Step 5. Shape into a disc with your hands, try not to overwork the dough.
Step 6. Wrap in plastic wrap and chill in the fridge for 20 minutes.
Step 7. Roll out to a thickness of 2mm and carefully lift it onto the tart tin, pushing it to the corners. Leave the excess pastry to hang over the edge of the tin. Pastry shrinks when cooked so I always trim it after it's been baked but you could also trim off the excess before.
Step 8. Blind bake - preheat the oven to 180C/160C fan-forced. Scrunch up some greaseproof paper and place it on top of the pastry in the tart tin. Place some pie weights or baking beans on top and bake in the oven for 20 minutes.
Step 9. Remove the grease-proof paper and pie weights/dried beans and return the tart to the oven for 5 minutes to brown up. Trim the edges after being baked.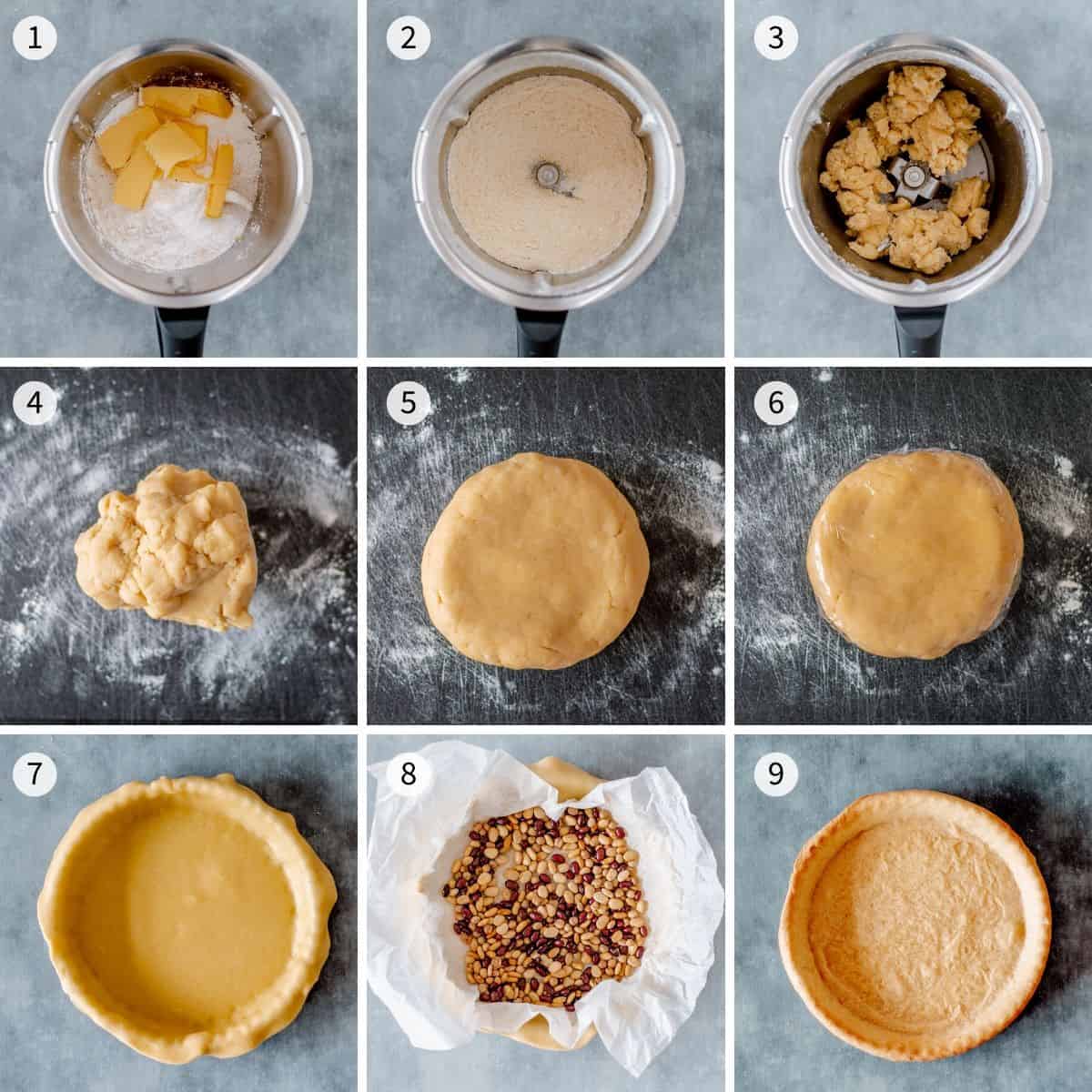 To Make Ahead and Freeze
Sweet Shortcrust Pastry can be made ahead and kept in the fridge for 2-3 days. Wrap it up tightly, and when you're ready to use it, thaw it out at room temperature for 1-2 hours.
To freeze, wrap it up tightly and freeze for no more than 4 weeks.
You Might Also Like
Thermomix Lemon Tart
Apple Galette
Apple Crumble
📖 Recipe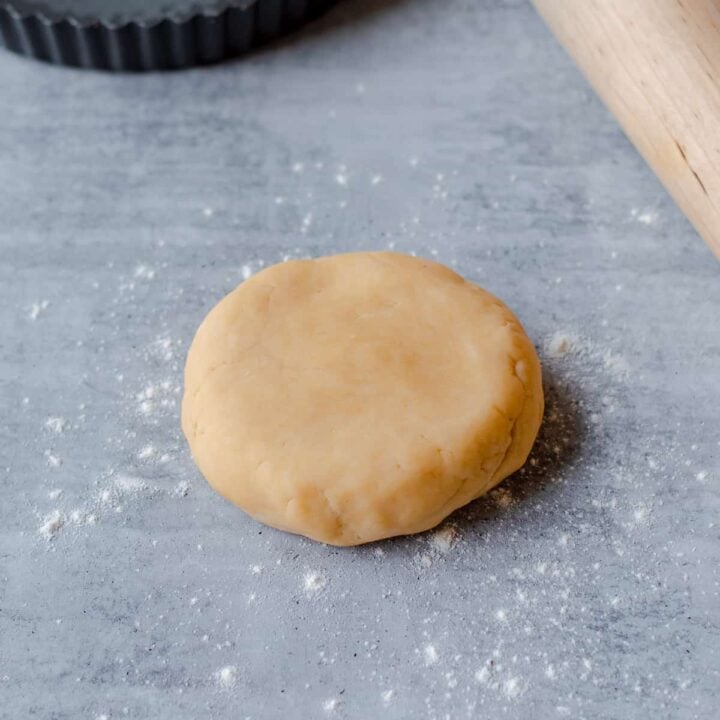 Thermomix Sweet Shortcrust Pastry (egg free)
Yield:
1 portion to fit a 23cm tart tin
Inactive Time:
15 minutes
A fail proof recipe for sweet shortcrust pastry made in the Thermomix.
Ingredients
200g plain flour
100g unsalted butter, chilled and roughly chopped
30g of icing sugar
pinch of salt
50g ice cold water
Instructions
Place the flour, butter, icing sugar and salt into the mixing bowl and mix 10 sec/speed 6.
Add the chilled water and knead for 1-1½ mins/dough setting. The pastry should now have come together into clumps, if not, knead for a few seconds more.
Turn the pastry out onto a lightly floured surface and knead gently into a disc shape. Wrap in plastic and refrigerate for 20 minutes before proceeding with your recipe.
See recipe post for step by step instructions on how to blind bake pastry.
Notes
See recipe post for step by step photos to make pastry and also all the best tips on how to blind bake.