This immune-boosting juice contains oranges, lemon, ginger and turmeric blended in the Thermomix. You can make it spicier by adding some cayenne pepper or sweeter by adding honey.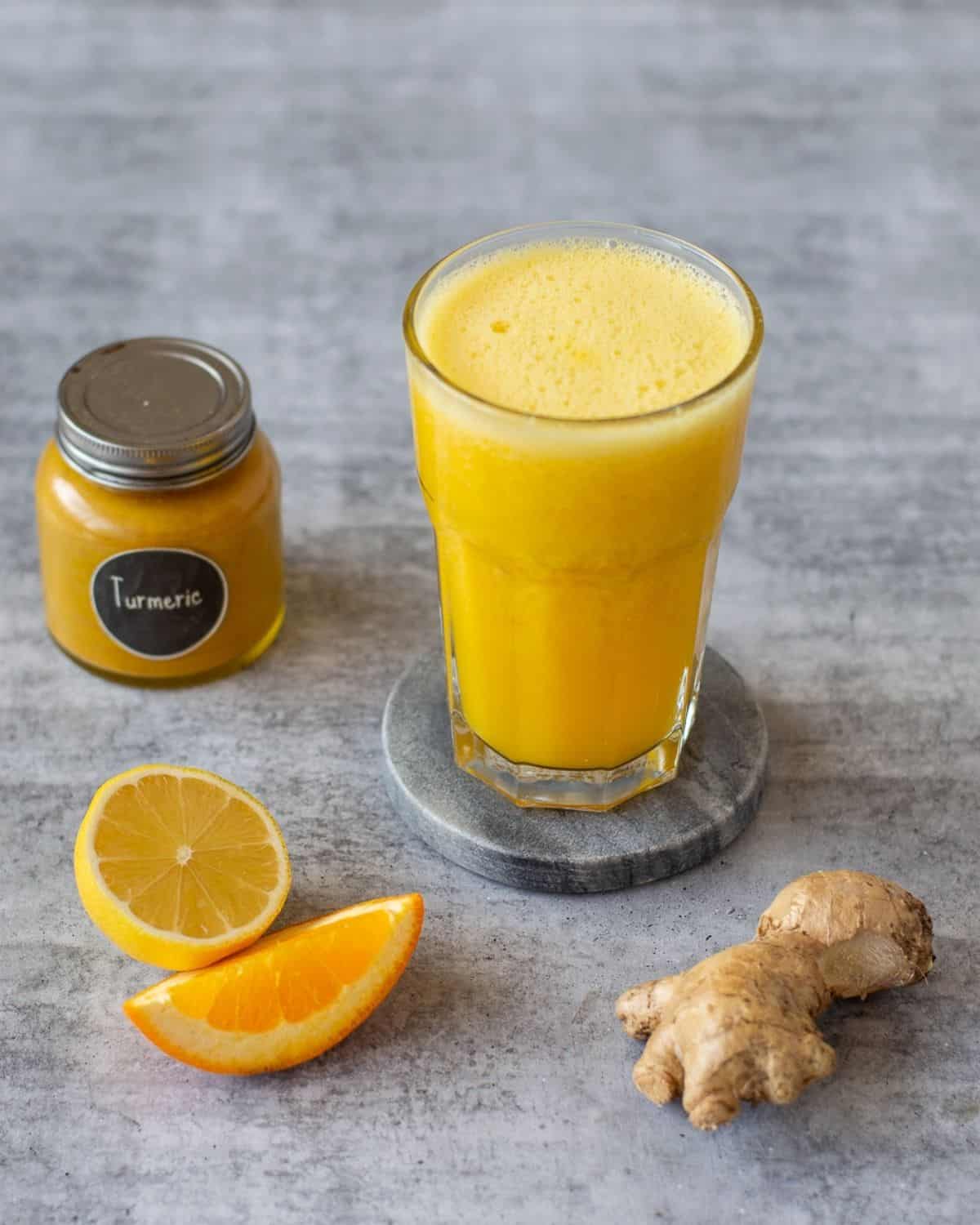 This orange, lemon, ginger and turmeric juice is simple to make and is bursting with vitamin C and other immune-boosting nutrients. It can be made ahead and kept in the fridge for a few hours or even frozen into icy poles.
Last week I published an Immunity Boosting Green Smoothie containing banana, strawberries, spinach, almonds and Greek yoghurt. It was a big hit in our house, so I thought I would try another recipe with immune-boosting ingredients.
The Thermomix can pulverise fresh fruits and vegetables so finely that it tastes almost like a pressed juice. The added benefit is the fibre is still intact, so all the goodness is left in, and if you've ever owned a juicer you would agree it's a complete pain to clean!
Ingredients
When writing this post, finding fresh ginger at the supermarket here in Melbourne is a bit hit and miss, and sometimes there isn't any left. When you buy fresh ginger, it can easily keep in the freezer, so there's always some on hand for adding to juices, smoothies, stir-fries or curries.
How to Freeze Fresh Ginger Root
Store the ginger in a zip lock bag in the freezer and grate directly into the recipe when needed, there's no need to thaw it out beforehand. I never bother to peel my ginger as it's too much effort and don't notice any difference.
This juice makes two large glasses and tastes better cold when served over ice. It's better fresh but will last in the fridge for a day or two.
You Might Also Like
Beetroot Carrot & Pear Juice
Thermomix Banana Smoothie
Blueberry Breakfast Smoothie
Immunity Boosting Green Smoothie