Donna Hay's easy to make rich and fudgy Chocolate Brownies converted for the Thermomix.
Sometimes you just need some soul food and these rich and decadent Thermomix Chocolate Brownies hit the spot. They're soft and gooey with a crackly top and take only ten minutes to prepare in the Thermomix.
What I love about them is they're made with cocoa powder instead of cooking chocolate. Whenever I buy chocolate with good intentions of using it for cooking, it gets devoured by my greedy teens (or myself 😋).
The Thermomix makes light work of mixing everything together and before you know it they're ready to bake. The chocolatey aroma wafting through the house is truly comforting and remains a few hours after they've been removed from the oven.
How to Make Step by Step
Note: This is a summary of the instructions. The full ingredients and instructions are shown in the recipe card below.
Melt the butter, sugar and cocoa powder in the TM bowl for 3 minutes on 50 degrees.
Set the Thermomix running for 1 minutes whilst you add the eggs one at a time and vanilla extract through the hole in the lid.
Lastly, add the flour and mix for a few seconds until combined.
Pour into a square brownie tin measuring 20cm x 20 cm, smooth over the top with the back of a spoon and bake in the oven for 30-35 minutes until the centre is set.
Leave to cool in the tin completely then cut into squares.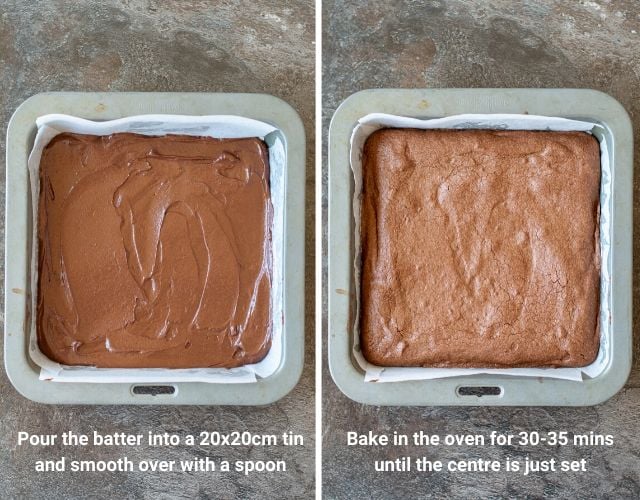 Some Variations To Take Them to the Next Level!
Try Adding These Before Baking: -
Add some crunch to your brownies by adding some chopped walnuts or pecans.
Stir in some white or dark chocolate chips or both for a triple chocolate brownie.
Add some dried cherries for a sharp fruity contrast.
How to Store Them
If there happen to be any brownies left over, store them in an airtight container in a cool place for a few days.
To freeze, separate each brownie with baking paper so they don't stick together and freeze in an airtight container for up to three months.
You Might Also Like
Thermomix Chocolate Pear Pudding
White Chocolate & Raspberry Blondies
Chocolate Chia Bliss Balls
Chocolate Porridge
Chocolate Mint Ice Cream
Keep up to date with all the latest by following me on Facebook, Instagram and Pinterest.