These 3-ingredient Thermomix Oreo Balls are super easy to make. Made with Oreo cookies, cream cheese then dipped in silky dark chocolate, what more could you want!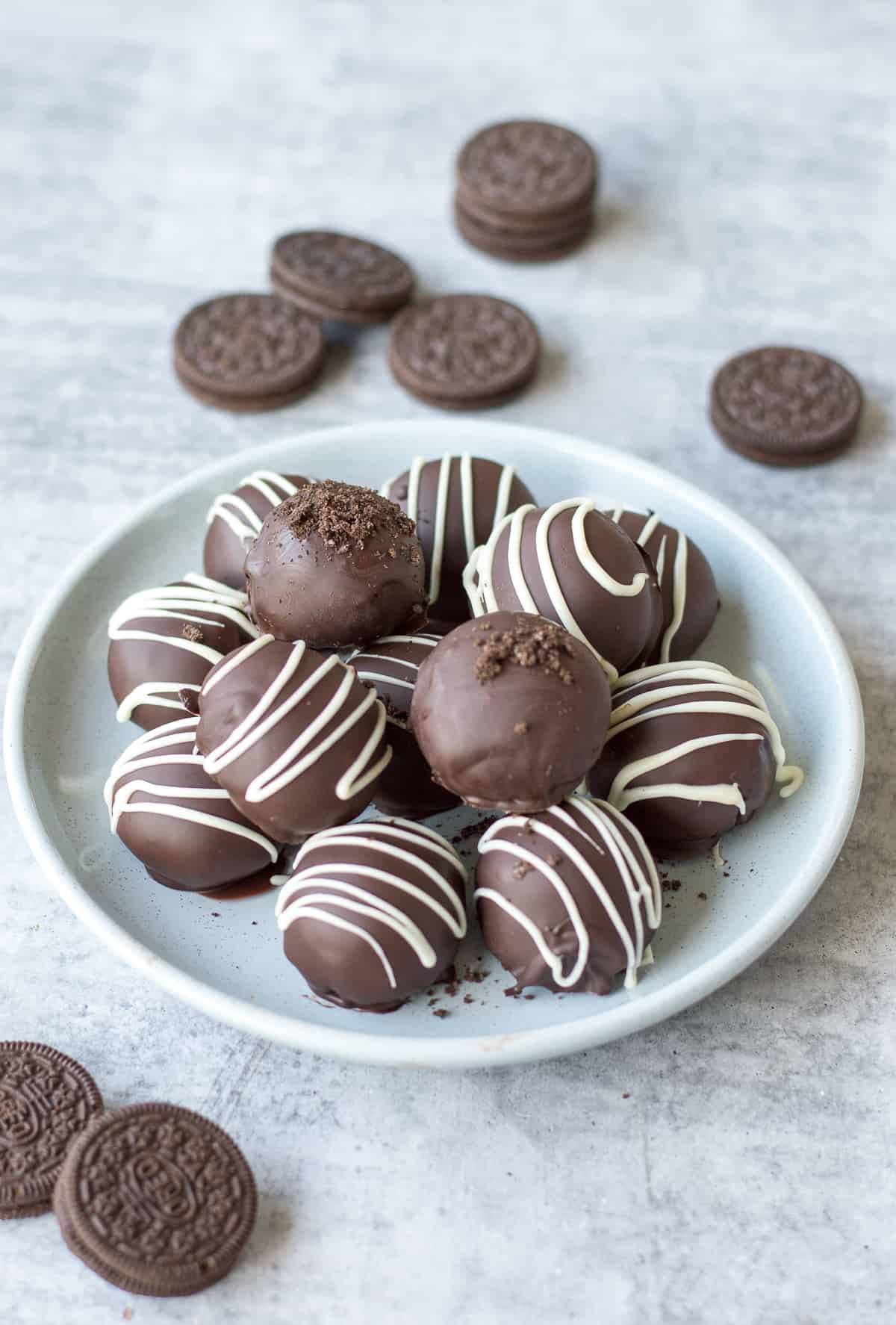 Oreo Balls also go by the name of Oreo Truffles. Either way, they're deliciously crunchy on the outside with a soft and gooey centre.
You don't have to bake them, and they're perfect for an easy dessert or afternoon treat. I've chosen to drizzle them in white chocolate and some crushed Oreos, but you could cover them with sprinkles etc.
If you also love a recipe that doesn't require baking, check out our seriously good Thermomix Mars Bar Slice which takes 10 minutes to prepare.
Ingredients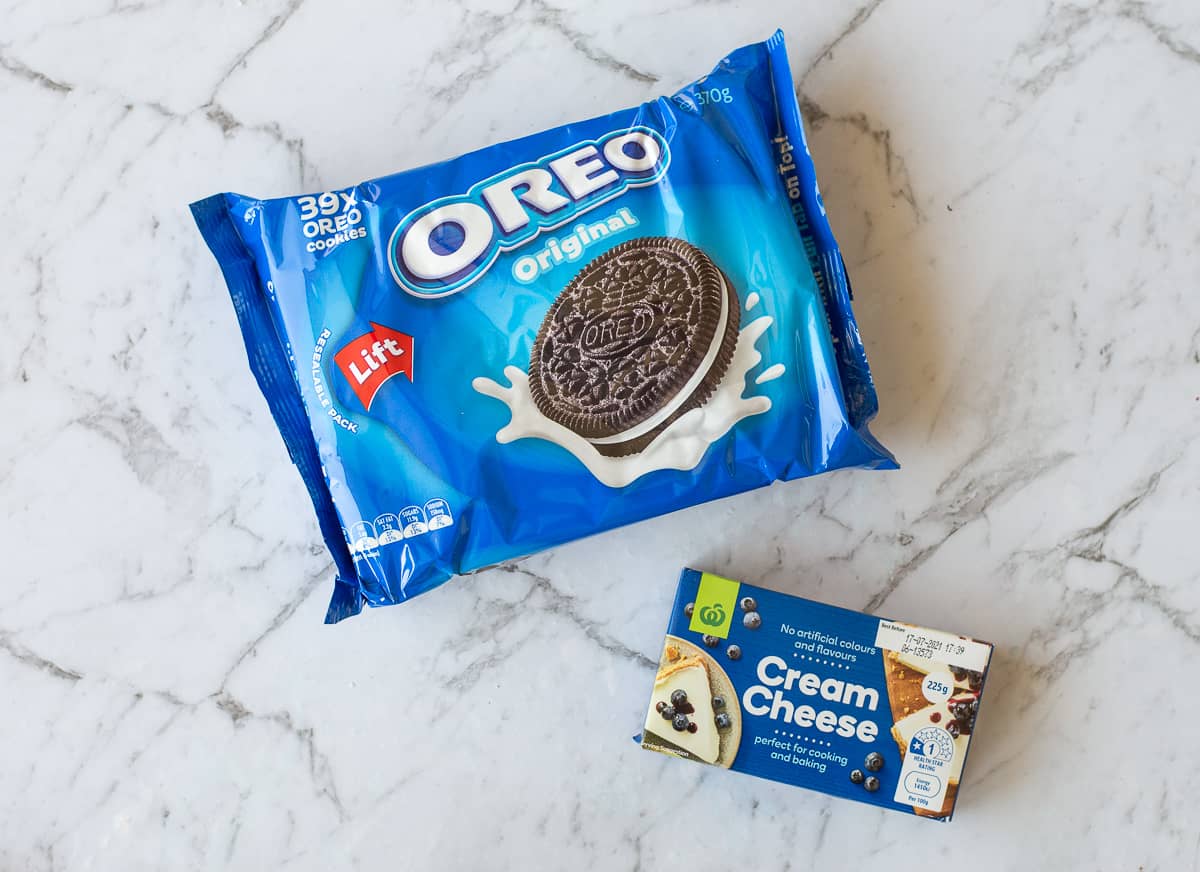 Oreo Cookies: For this recipe which makes 18 balls, I use a whole packet of Oreos that has 39 cookies in them. I know that sounds like an awful lot of Oreos, but the good news is you can freeze any surplus balls for another day. If you want to decorate the balls with crushed Oreos, you'll need a couple more extras.
Cream Cheese: Philadelphia is the most popular choice, but I like to use Woolworths home brand which comes in a convenient 225g box. Philadelphia comes in a 250g tub so if you buy that there will be some cream cheese leftover for bagels. 😋
Chocolate: I love using dark chocolate with a white chocolate drizzle. You could do it the other way around and use white chocolate with dark chocolate drizzle. Or simply leave the drizzling out and just add a sprinkling of crushed Oreos.
Tips on How to Make (see the recipe card at the bottom of this post for exact quantities etc.)
With just three simple ingredients, not much can go wrong, but there is little planning involved to achieve the best results.
Crush the Oreo cookies: Start with the whole Oreo cookie and blitz it in the Thermomix until they transform to fine crumbs.
Add the cream cheese to combine - make sure it is softened at room temperature, so it blends easily.
Place the mixture in the fridge to chill for 10 minutes so that it's easier to roll into balls.
Roll into balls and place on a baking tray lined with baking paper (photo 1).
Freeze the balls for 20 minutes, so they don't fall apart when dipped in chocolate.
Dip the balls in chocolate: Place one Oreo ball on a fork and spoon the melted chocolate over the top and sides of the ball. Gently lift the fork up and down to shake off any excess then slide it back onto the baking tray to decorate (photo 2 & 3). Decorate with crushed Oreos or sprinkles before the chocolate sets, so they stick and don't fall off.
For the chocolate drizzle - I used a ziplock bag and inserted a tiny hole in it. I melted the chocolate in the microwave instead of the Thermomix as you only need a small amount (photo 4).
How to Store
These Oreo Balls can be stored in an airtight container in the fridge for 2 weeks or freezer for 3 months.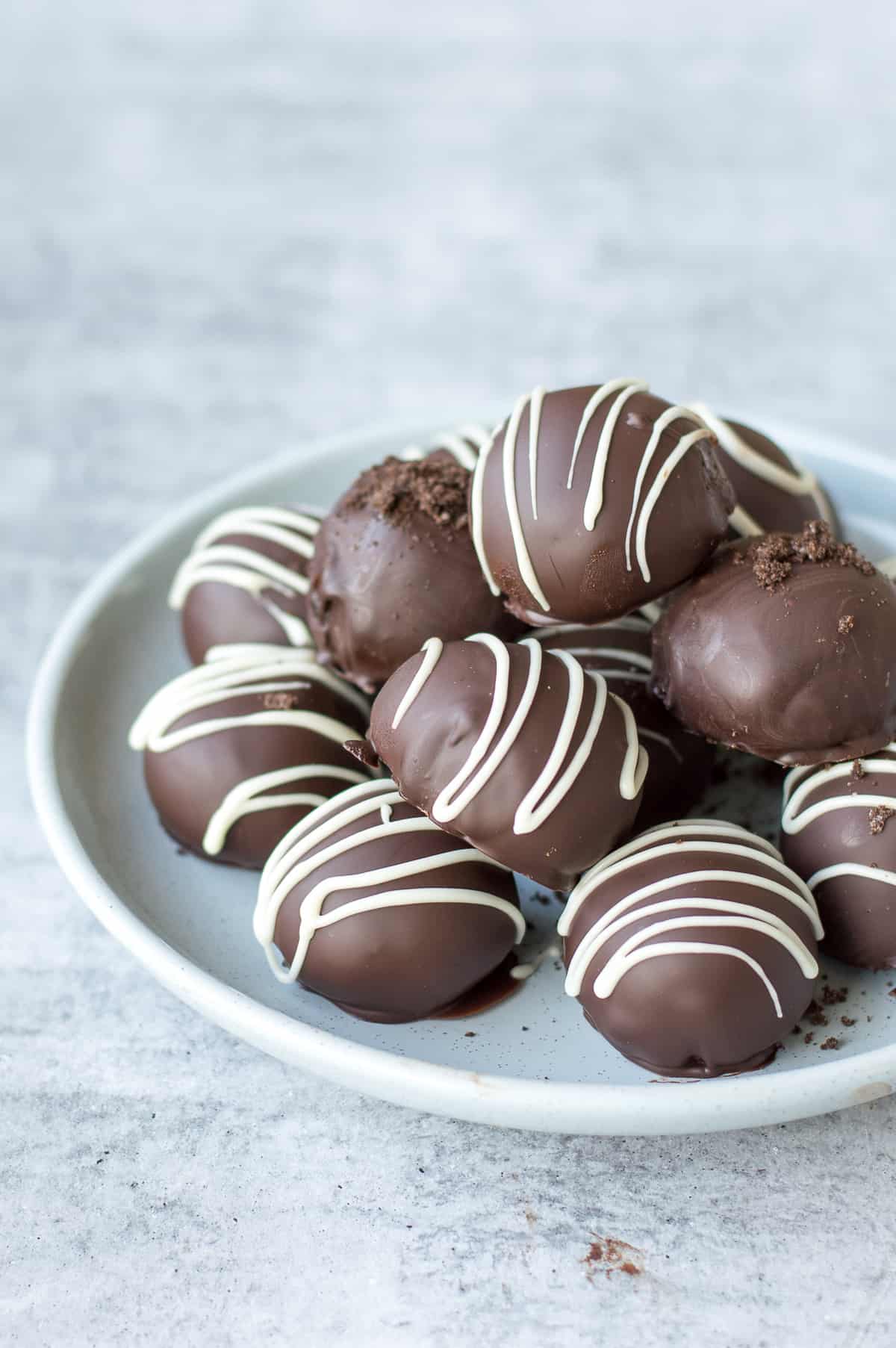 You Might Also Like
Chocolate Covered Strawberries
Chocolate Chia Bliss Balls
Easy Chocolate Cake
Chocolate Brownies