Get ready for summer with this soft and creamy Thermomix Strawberry Ice Cream. With only four ingredients, it's a breeze to make and will please everyone.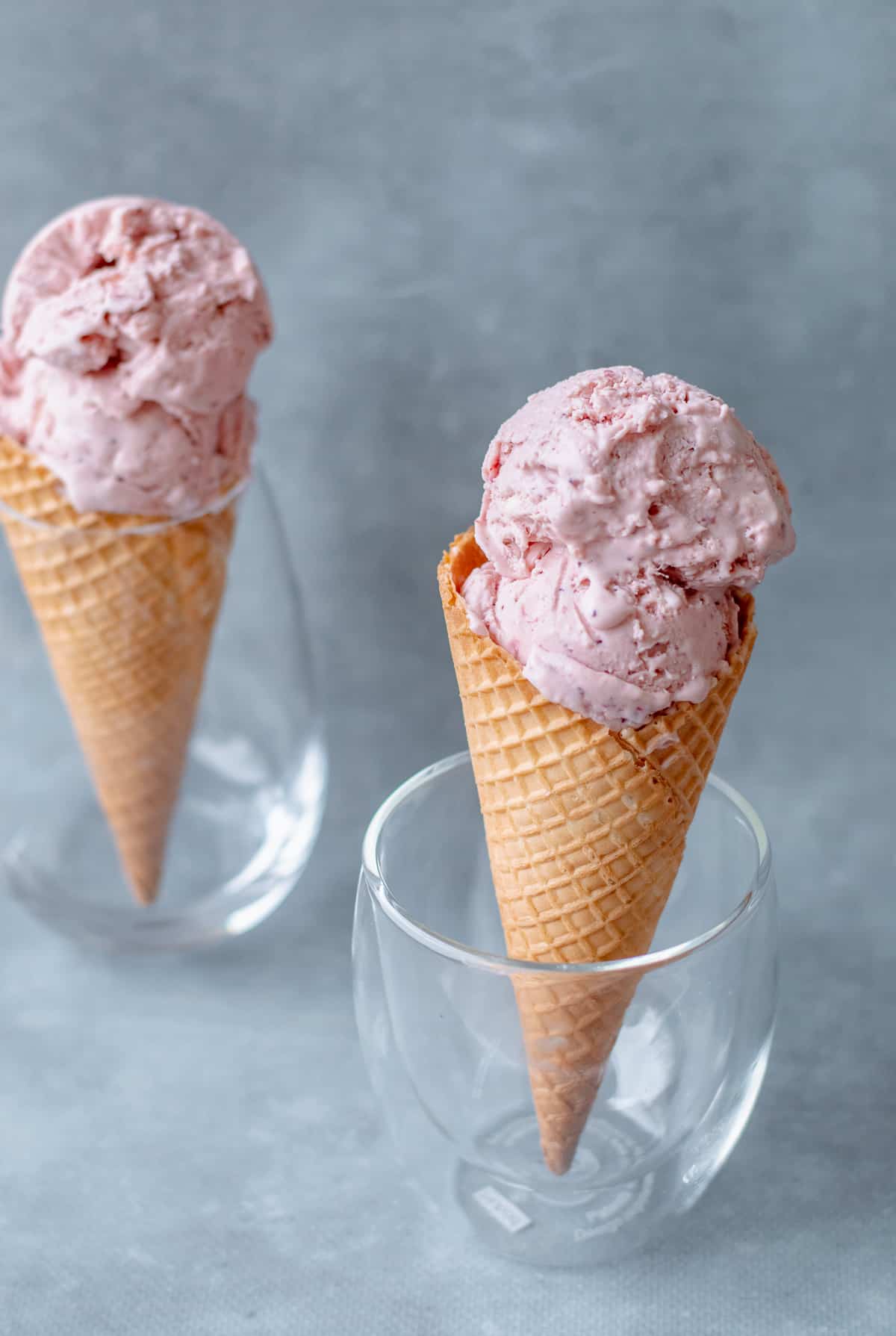 The secret of this Strawberry Ice Cream recipe is roasting the strawberries. By roasting the strawberries, the flavour intensifies and gives the ice cream a beautiful pink colour.
Jump to:
Why We Love This Recipe
4 simple ingredients.
An excellent way to use strawberries when they are on special.
An impressive dessert for dinner parties.
Ingredients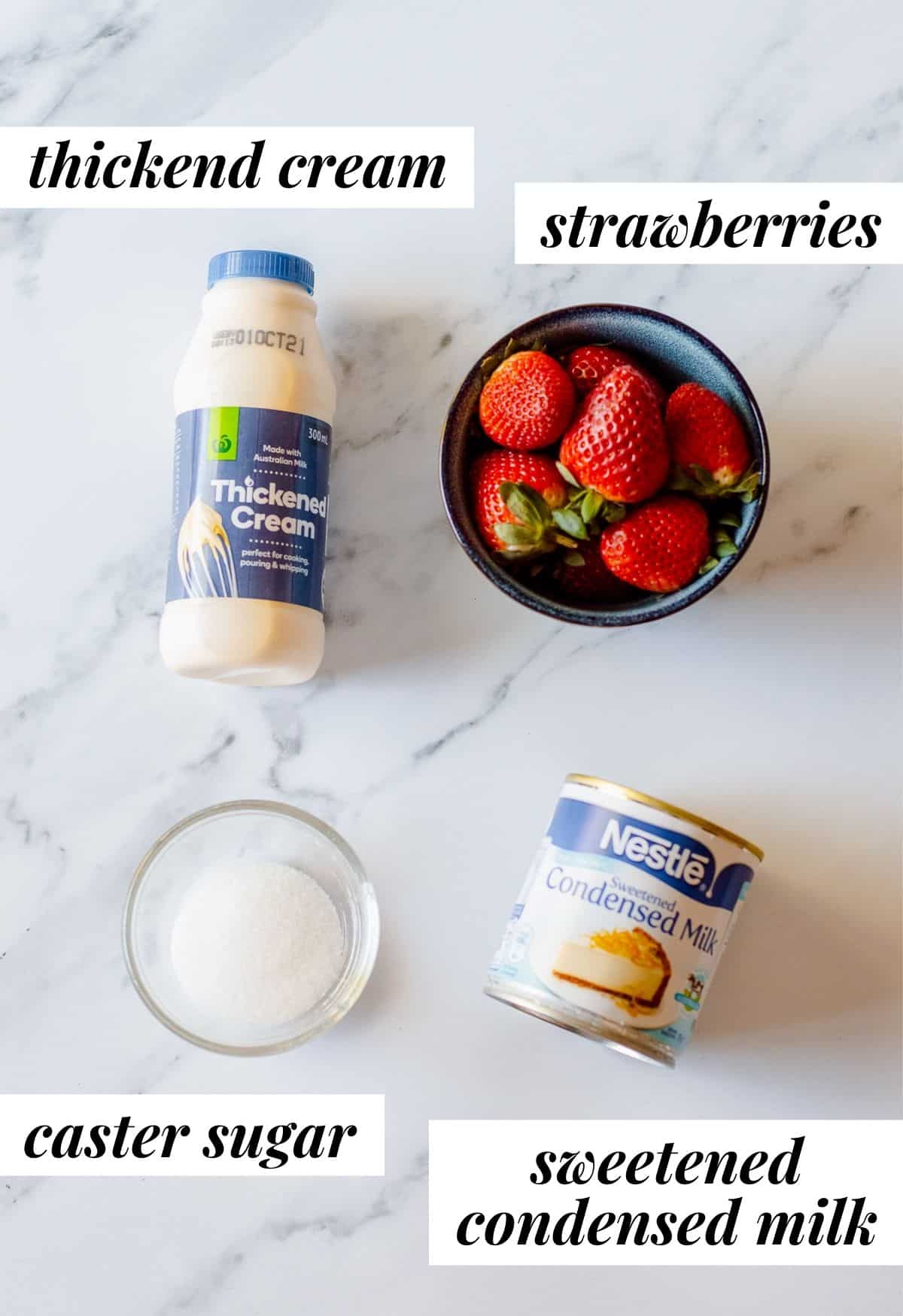 Note: The full quantities are shown in the recipe card below.
Strawberries - use fresh ripe strawberries.
Sweetened condensed milk - not to be confused with evaporated milk. Nestlé is a good brand.
Cream - use full fat whipping cream.
Sugar - to sprinkle over the strawberries.
Step by Step Directions
Note: This is a summary of the instructions. The full ingredients and instructions are shown in the recipe card below.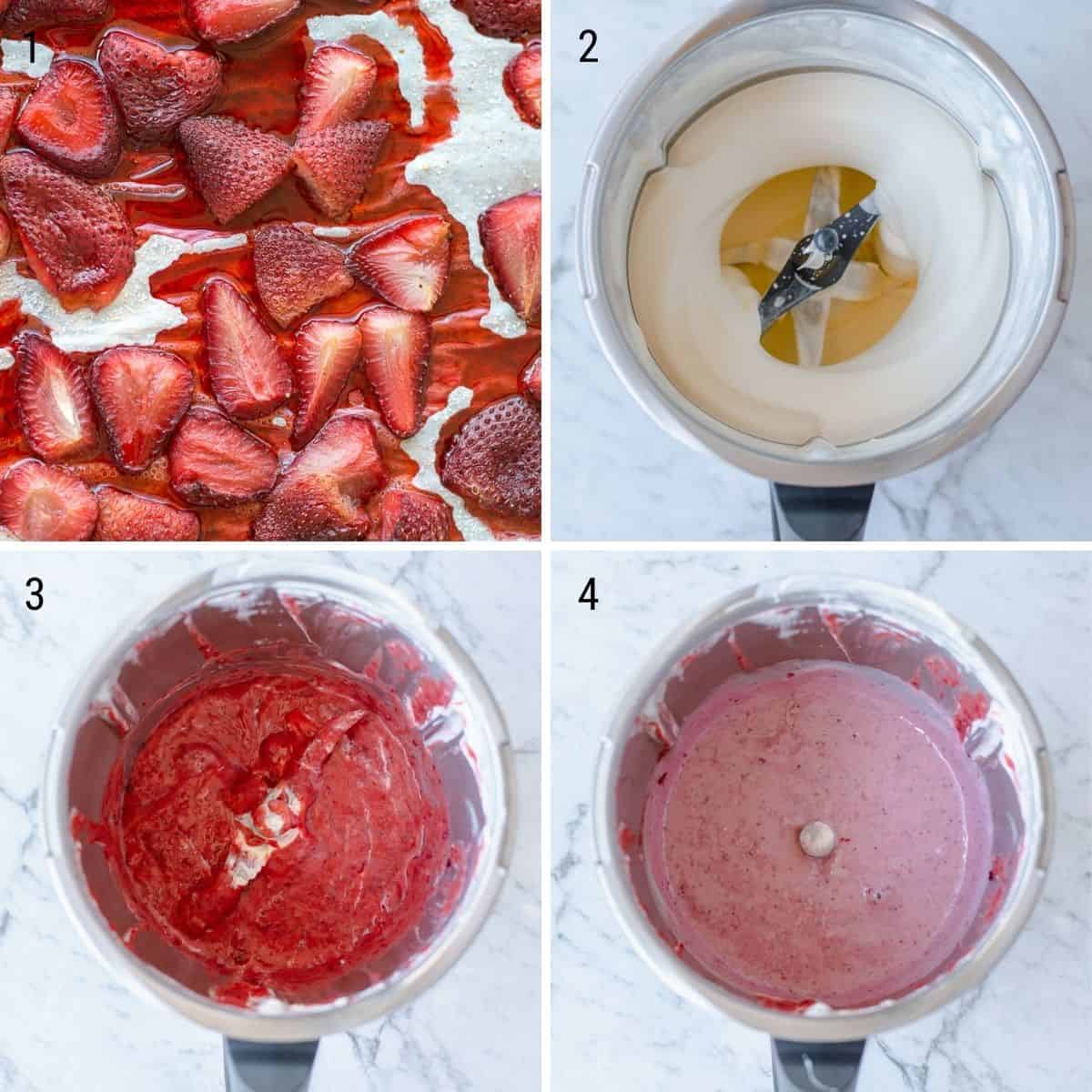 Step 1. Wash the strawberries of any dirt and leave them to dry on a tea towel or kitchen towel. Hull and cut them into halves or quarters. Roast the strawberries for about 30-40 minutes until they are soft. Set aside to cool.
Quick tip: To hull strawberries, pull off the green tops and then insert a small sharp knife at an angle. Run the knife around the visible circle and pull the hull out.
Step 2. Whip the cream in the Thermomix bowl. I have a separate blog post with tips for success. As soon as the cream is whipped, transfer it to a separate bowl.
Step 3. Once the strawberries have cooled, transfer them to the Thermomix bowl and mix for 10 sec/speed 4.
Step 4. Add the sweetened condensed milk to the strawberry mixture and mix for 10 sec/speed 4 to combine.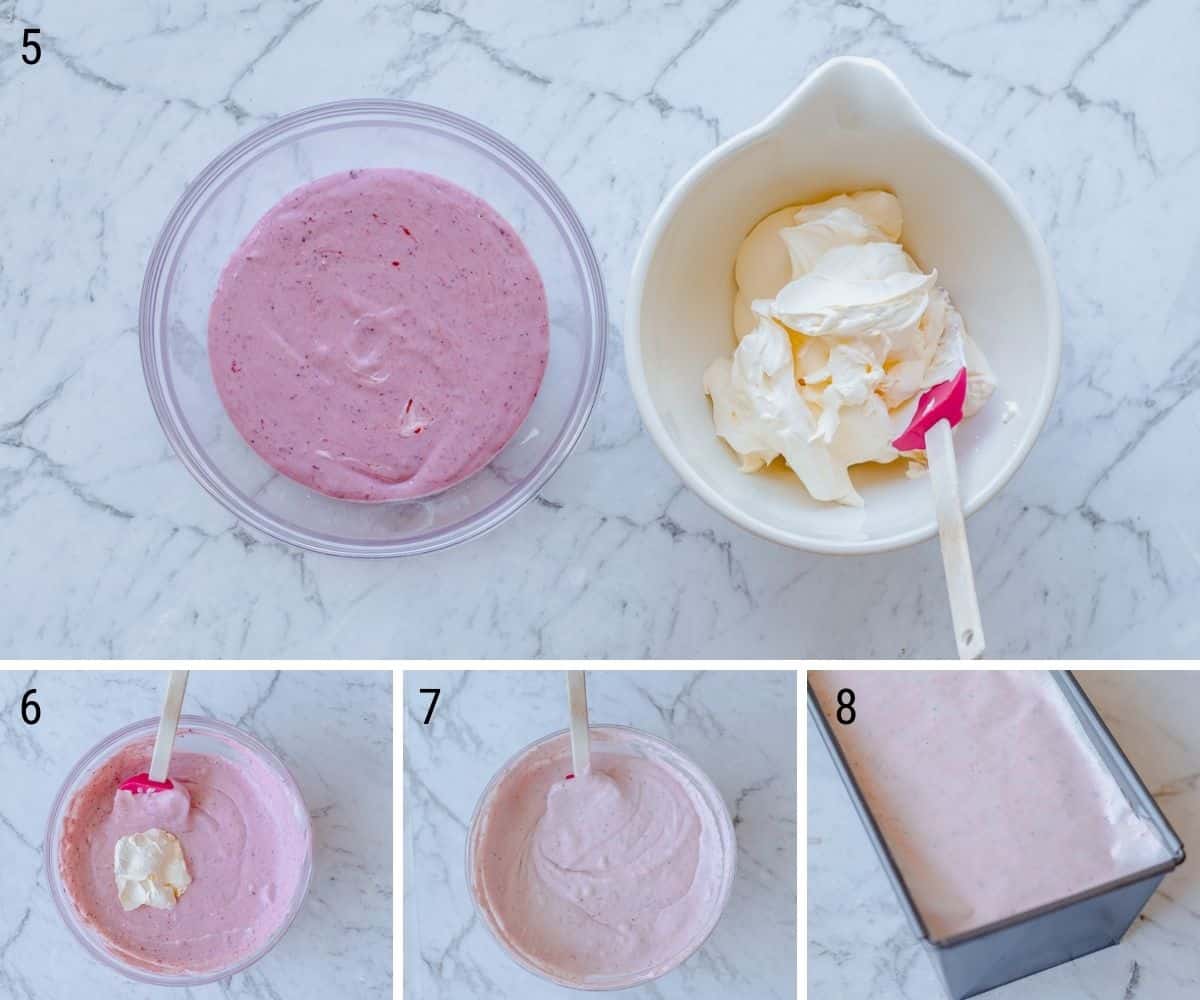 Step 5. Transfer the strawberry mixture into a large bowl next to the whipped cream.
Steps 6-7. Fold the whipped cream gently in the strawberry mixture, a dollop at a time. At first, it will look lumpy. As you continue to fold, the combination smooths out and becomes soft and silky. Be careful not to over-mix, otherwise it will not be light and fluffy.
Step 8. Pour the mixture into a tin or freezer-proof container. Place grease-proof paper on top to prevent icicles from forming. Cover with plastic wrap and lid if the container has one and freeze for 12+ hours or overnight.
Substitutions
Cream of coconut can be substituted for sweetened condensed milk.
Serving Suggestions
The ice cream will be solid from the freezer. To soften it, thaw on the bench-top at room temperature for 10-30 minutes before serving.
I love to serve it in a waffle cone, but it would be equally enjoyable on its own or with fresh strawberries.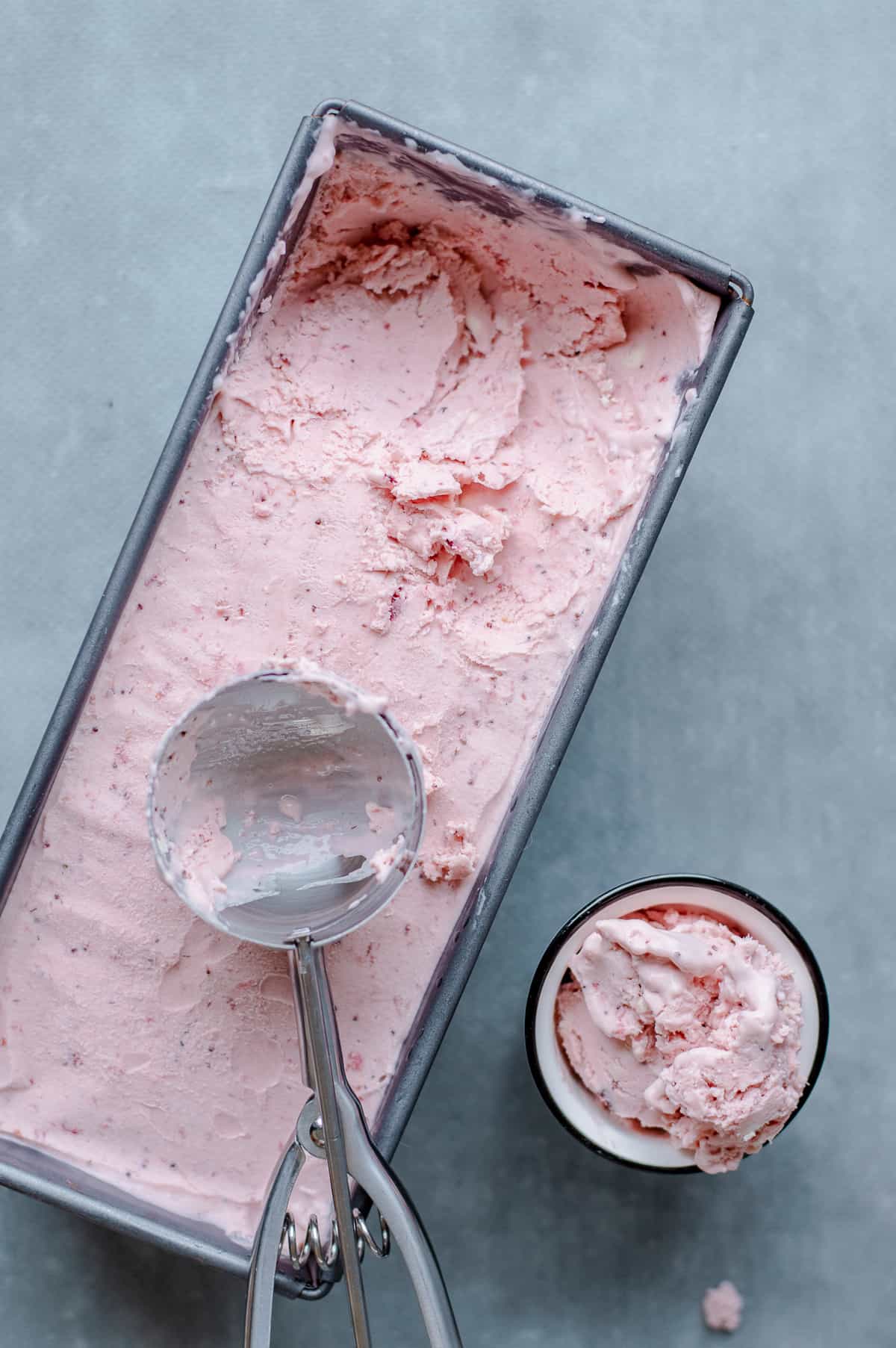 Storage
The ice cream will keep in the freezer for up to 1-2 weeks. Ensure it is adequately covered to prevent the formation of ice crystals.
You Might Also Love
Thermomix Gin & Tonic Sorbet
Mango Sorbet
Chocolate Mint Ice Cream
Pineapple Sorbet