An autumn favourite, this homemade Thermomix Pumpkin Spice is easy to prepare and can be added to a variety of dishes.
Despite the name, pumpkin spice does not contain pumpkin, but a mixture of ground cinnamon, ginger, nutmeg and cloves. You don't need a Thermomix to make it, but I like to use my one for ease.
Pumpkin Spice can be used to create favourites such as a Pumpkin Spice Latte and in baked goods like Pumpkin Pie. The mixture is a similar blend to chai spice, but without cardamom added.
Jump to:
Ingredients
The main ingredient is cinnamon, then ginger, then a little nutmeg and cloves. I find nutmeg and cloves overwhelming, so I don't like to add too much.
If you're a cinnamon lover like me, Costco sells 300g tubs or you can order cinnamon in large quantities online. The Thermomix can also grind cinnamon quills for you.
Pumpkin Spice Recipe Ideas
In addition to pumpkin pie, here are a few suggestions for recipe ideas: -
Thermomix Pumpkin Spice Latte
Pumpkin Scones
Pumpkin Spice Pancakes
Pumpkin Spice Waffles
Pumpkin Spice Granola
Pumpkin Spice Cinnamon Rolls
Pumpkin Spice Cupcakes
How To Store Pumpkin Spice Mix
As with all spices, Pumpkin Spice is best stored in an airtight container in a cool, dark pantry.
You Might Also Love
Matcha Latte
Turmeric Latte
Chai Spice Mix
📖 Recipe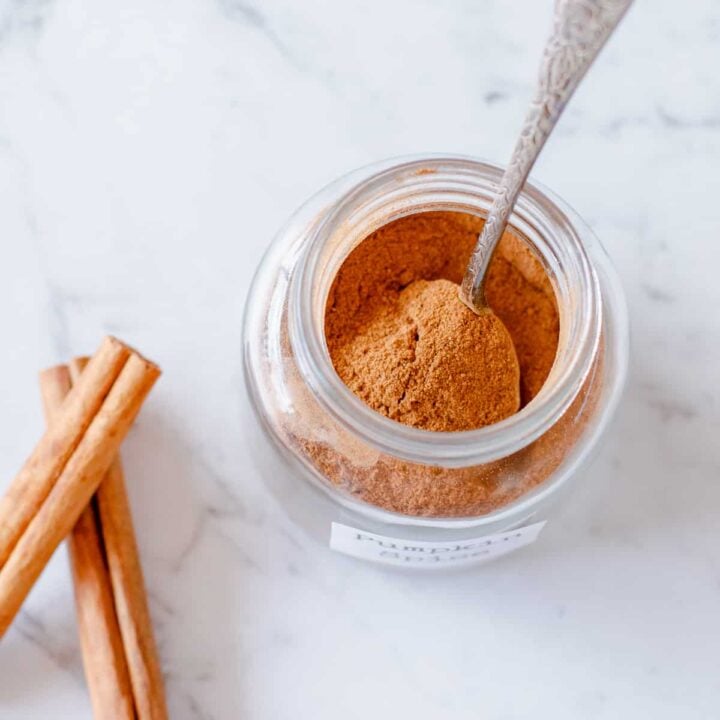 Thermomix Pumpkin Spice Mix
This homemade spice mix has the perfect blend of cinnamon, ginger, nutmeg and cloves. It can be used to make pumpkin pie, pumpkin spice latte and many more dishes.
Ingredients
3 tablespoons ground cinnamon
1 tablespoon ground ginger
¾ teaspoon ground nutmeg
¼ teaspoon ground cloves
Instructions
Add all the spices to the Thermomix bowl and mix for 5 sec/speed 6.
Wait a few seconds for the mixture to settle then take the lid off and transfer the spice to an airtight jar or container.
Store in a cool dark pantry.